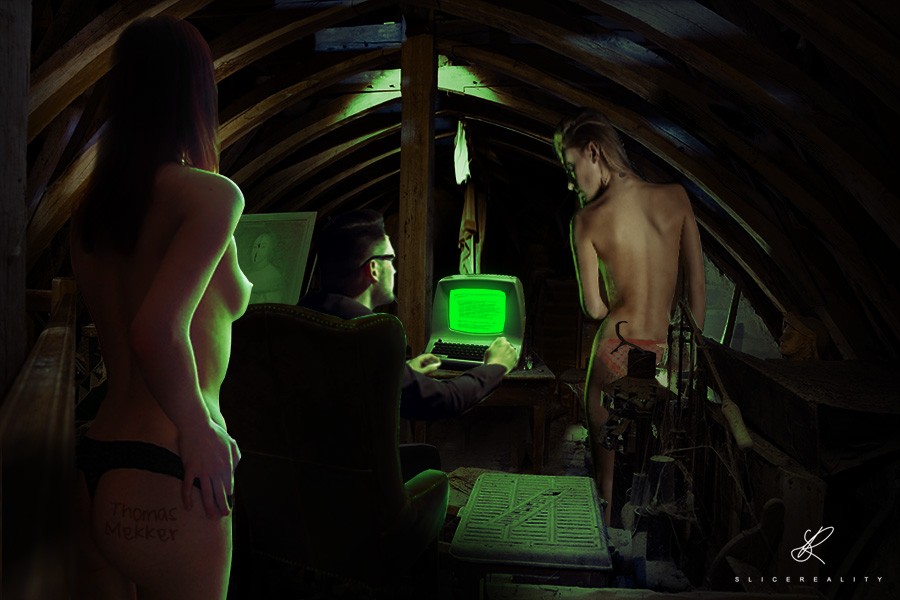 Items of Power
Twist Reality in Perverted Ways
Chapter 1 by

Cross C
Some examples of the Items that might appear in the reality of your choice:
Ring of 3: A golden ring with three emeralds. When worn you can change a person through the use of a three word phrase. A person can only be changed three times before they are immune to further uses of the ring, however any transformations are then permanent.
Reality Remote: Alter reality through the use of a remote control.
Tainted Cube: The power within a Cosmic Cube allows whoever wields it to literally reshape reality around him. Virtually anything is possible, from the raising of mountains and commanding the power of the elements to opening dimensional portals and transforming your enemies. This Cube has been tainted by spending eons within the bosom of a particularly powerful sex god and will similarly taint the desires and outlook of those who choose to use it or become bonded to it.
World Processor: A seemingly antiquated computer with only one program on it: a word processor. Whatever is written becomes true, one numbered line at a time.
Ring of Truth: Wear it and whatever you say becomes a true statement. Reality changes to fit your words.
Dick-Master Ring: A ring of dominance, the wearer of this ring will find all made slaves to their shlong. Women will become loyal cock-whores and men will become submissive, sissified sluts before the bearers dominating dong. And if the wearer doesn't have a dick...they will soon...
Master PC: Allows you to become a virtual god to the people around you, allowing you the power to bend their reality to your specifications.
Which Item of Power, feel free to add your own as there are an infinate number..
Want to support CHYOA?
Disable your Ad Blocker! Thanks :)
A depository for stories involving magical items that control people and alter reality usually for erotic reasons...
POV

3rd Person, Both
Category
Language

English
Mode

Public
Tags

Xander, Buffy, Joyce, BTVS, Buffy the vampire slayer, fanfiction, body modification, mind control, Master P.C., Faith, Harmony, Smallville, milf, mini giantess, giantess, cuckold, cum eating, oral sex, blowjob, fucking, cheating, gay, pussy eating, heterosexual, bisexual, Fanfic, Breast Expansion, Whores, Conversion, Locker Room, ENM, Public, Fire Emblem, Three Houses, Monica, Kronya, sexy dance, body control, mind alteration, Dorothea, Ingrid, Shaving, fan fiction, voyeurism, exhibitionism, inanimate-turned-animate, Reality change, shemale, Whore, Goth, Byleth, Edelgard, Bernadetta, sexy dancing, Mental Change, BDSM, Lesbian, cum, Music, Shantae, Corruption, cock growth, Foursome, Harem, Sex, feminization, sissification, cross-dressing, SPH, Transformation, ENF, stripping, voyeur, Panty and Stocking, Angel, Demon, Bimbo, Mercedes, Ashe, Marianne, Homosexual, Gay blowjob, femdom, Ghost, gender bender, croptop, bathroom, blonde, bimbofication, redhead, brunette, Danganronpa, Teruteru Hanamura, Kyoko Kirigiri, Makoto Naegi, rules, Disney, Tarzan, Time Stop, Sylvain, striptease, Stargate, Age Regression, Age Progression, Breast Enlargment, Futa, Persona 5, Makoto Niijima, Boombox, Sissy, dickgirl, anal, change, trans, big dick, blow bang, cock sucking, huge cock, Black girl, brother sister, Gwengolyn Post, Sakura Futaba, Okumura Haru, Niijima Makoto, Takamaki Ann, Sadayo Kawakami, Futaba Sakura, Dance, Twerk, giant dick, bathroom sex, Gyaru, Dark skin, mind break, Mind Swap, Haru Okumura, Pole dance, Pink, Elf girl, Shamir, Catherine, Rhea, personality change, ass expansion, Transsexual, tits, motorboat, wish fulfilment, ball growth, Piercings, Thong, master PC, fanfication, gender change, invisibility, mischief, body transformation, femboy, Pantless, dick girl, m2f, Willow, Discipline, Spanking, Aoi Asahina, Akane Owari, Komaru Naegi, Hiyoko Saionji, narcissism, mother, alternate reality, Body Modifcation, Cuckqueening, timeskip, X-men, Marvel, Marvel Cinematic Universe, MCU, Tony Stark, French, Ugly bastard, clothing modification, unaware, living toys, action figures, science fiction, humiliation, Lace underwear, alexandra daddario, russian, stripper, Sluttification, Pussy Expansion, latex doll, Blindfolded, Bounded, Cum slut, New York City, Ladyboy, Domination, SM, kiss, bbw, Lesbian sex, robot transformation, reverse cowgirl, Miu Iruma, K1-B0, breast growth, Sakura Ogami, squats, Snyder, Hairy guy, Hair Growth, wish, Junko Enoshima, Tenko Chabashira, Suspicious Kyoko, genderswap, watch, experiment, oral, ass to mouth, a2m, atm, mild scat, scat, criminal, thoughts, evil, cheat, Latex, Fuck hole, Obediance, Nympho slut, My hero academia, cheerleaders, fem sub, submissive, mistress, Anna, twerking, Asian slut, Japanese, size, libido, midoriya, izuku midoriya, izuku, Sex toys, handjob, Piercing, Punk, slut-conversion, twins, Sayaka Maizono, Bad end, transofrmation, Slutty tattoos, Slutty piercings, Rimming Benefits, Office Ass Eating, Buttplug, mindfuck, constant orgasm, sperm faucet, grope, plaything, class consciousness, Life Swap, Identity Change, Clothing Swap, Identity Swap, big tits, Tattoo, Swap, doll, control, porn, perv, magic ring, hypno, hypnosis, brother-sister, Spliced tongue, Long tongue, Ann Takamaki, Shiho, Persona, Persona5, Teaser, Lesbians, Face fuck, mmorpg, virtual world, ntr, MM+F, double penetration, mother son, father son, Shaved head, cumshot, load, sperm, cumstain, Robot, Mom, mother-son, breasts, Make up, Kawakami, big cock, school setting, teacher, Jock, multiple orgasm, cunnilingus, squirting, fertility, public sex, car sex, Annette, Felix, duplicating, lactation, blow job, threesome, MasterPC, Sterling Archer, Archer, Mallory Archer, Cheryl Tunt, Pam Poovey, Lana Kane, Cyril Figgus, Reality remote, Gang bang, Pet girl, Slutty, body alteration, sister-brother., cumdump, pussy, creampie, fuck, strip, spunk, jizz, cuck, TMNT, Teenaged Mutant Ninja Turtle, Public Nudity, Futanari, Reality shift, Plump lips, Emma Watson, Titjob, Naked, morning, wood, happy, toy, fun, gold boombox, Masturbation, Latina, Venom, Corrupted, Mary Jane, Symbiote, futasub, hypnotic voice, large penis, small penis, Ass Licking Belt, Office rimming, race play, race-play, white on asian, WMAF, White Male Asian Female, milk, femization, bride, wedding, nipple play, Student, Dance/Music, anal sex, Shrinking, Tittiefuck, Reality warping, dolls, living doll, witch, magic, Comics, Spiderman, Black Widow, Sex doll, son, change in common sense, perverted rules, Sorority, Ruby x Weiss, trap, femboy main character, kissing, brother-brother, brother-mother, dungeon and Dragons, deep throat, piss, watersports, humliation, Raceplay, One Piece, Tattoos, DC Comics, Transvestite, 69, cunt eating, group sex, Dumb down, Queen Bee, Dick Growth, school, Breasts expansion, Girl transformation, Bruce Wayne, Batman, Sex stuffs, Homophobia, Barbarian, Bad English, Asian, facesitting, Natsumi, Peko Pekoyama, Vulgar, M+MM, MFM, Emo, Twink, Straight-to-Gay, Facial, Bimboification, Game, Item of Power, ass worship, Black Woman, Submission, Tifa Lockheart, FF7, Final Fantasy, Music/Sound, Race swapping, alien, petrification, Slut, Cosplay, Spider-Man, Monkey paw, Mind-Control, ts, Android, Horny, Sothis, Hilda, sexual awakening, possession, high school, big boobs, blow-job, MMM, Older woman, Girly, Nicknames, Bitch, French maid, Body writing, Submition, Rimming, Enchanted clothing, Lesbian Rimming, Exhibitionist fetish, Female-to-Male, Transgender, Full suit, Chastity belt, Taylor Hebert, worm, Body writing fetish, Dance/Muic, Slutification, Celeste, Mukuro Ikusaba, Fuck Doll, MM+M, Xander Harris, Buffy Summers, Vegas, sci-fi, wishes, Tease, genie, cunninglingus, Romance, Fetish, Mind Change, Pigtail, Cute, Bi-Curious, Hubert, Monkey's paw, Claude, interacial, Bunny outfit, Teasing, punk bitch, DC, DC/Marvel, virtual reality, Breast exanpsion, public rimming, self entrancement, #sissy, #feminized, #chastity, Punishment, embarrassed, embarrassment, Dominant, pocket watch, time, Straighttogay, roleswap, sexualityswap, boyfriendstealing, Beast, Bad girl, Hairy, Sub, Latex suit, Spider Man, interracial, ass licking, MTF, Transition, TG
Updated on Dec 3, 2023 by remora
Created on Sep 20, 2016 by Cross C
46,338 Likes
13,852,905 Views
3,606 Favorites
7,889 Bookmarks
2,110 Chapters
90 Chapters Deep