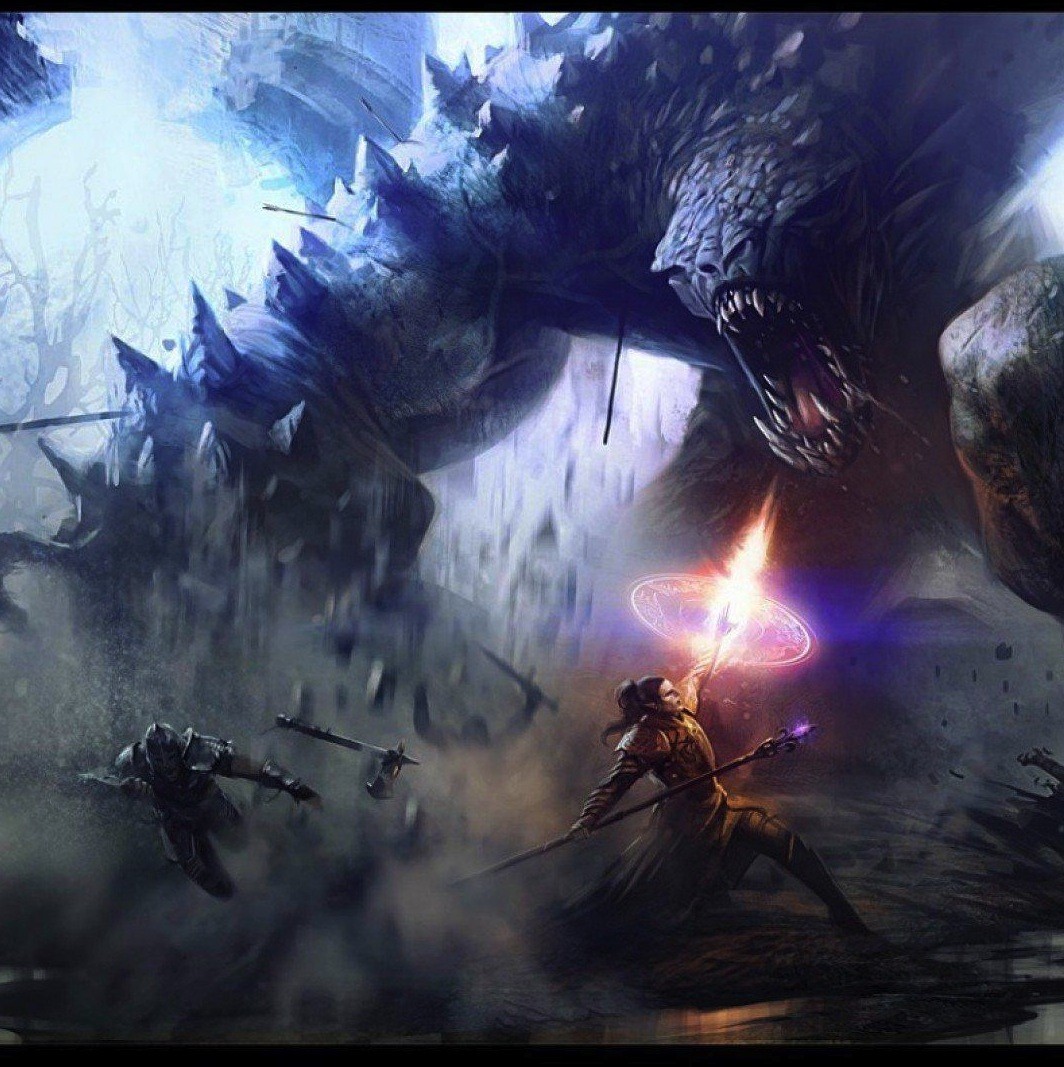 Game Monster
From Creep to Boss
Chapter 1 by

Cantalope
As the world loads in you rise up, drawing up your power... before unceremoniously flopping onto the ground. What's the point? The heroes would just waltz through and kill you 20 minutes from now. You didn't even get the satisfaction of killing them over and over again like the bosses did. You were just a creep put here so the heroes could farm XP. The more you think about it the angrier you get and finally you haul yourself up, determined to make this time different. You didn't know how but you would survive the heroes onslaught. You weren't dying today. Not this time dammit.
---
If you haven't checked out the "More Options..." chapter below, it has even more Monsters and chapters I'd recommend you take a look at.
You come into being as a low-level monster, the kind heroes chew through like popcorn. You know the drill, whether you're a player yourself or an artificial intelligence, and you're sick of it. You set out on your own quest: to defeat the heroes at any cost (or at least be an epic boss somewhere down the line).
POV

2nd Person, Other
Category
Language

English
Mode

Public
Tags

servant, Jungle, Quest, Rescue, Zombie, minotaur, Chitros, Armok, Lorchos, Anari, Hilia, Gods, Goddesses, Level Cap, Cleric, Love, Betrayal, Nimrev, Abigail, Ties That Bind, Those That Are Above The Gods, Promises Kept, Abigail, femdom, bondage, Nimrev, Blessing, Jungle, Major Split, RPG, Monster, Beast, Hybrid, Griffin, Bard, Palladain, Priestess, Mountain Bat, Religion, First Hint of Erotica, parasite, mind control, slug, worm, System, Level Up!, Fight or Flight, masochism, sadism, orgasm denial, Fantasy, Volcano, Minor Split, Machetes, Tentacles, Thaumaturge Nyssa, Acolyte Vel, Pawn-Player-Promotion, Massage, Leadership, MacGuffin, Changing Classes, Wandering Mob, Jungle Village, Fatality, Change Of Focus, mushroom, adventurers, cave, Opening Bid, Ghoul, Already Tried, Some Hearts Just Get Lucky Some Times, Lidia, Joss Sticks, Story, Bible Reference, Prayer Paper, Bar, wyrm, feral, loot, poison, aphrodisiac, King, Low Level Mook, Unfair Handicap, Strategist, lake mermaid, mermaid, tentacle, beach, Gods, Elves, hostage situation, fishing for mermaids, Skunk, Choice, Gets Better, Four, Game Monster, Beholder, Rogue Tevoy, Barbarian Argres, Scholar Baehdor, Magic Erotica, Potion, Dwarve, Wizard, Tree, Fall, Cut, Lovehandle, Blood, Turncoat, Side with the Monsters, Bribery, Squick, orgasm, Tendril, Goblin, female goblin, bull, broodmother, horse cock, Bold as Brass, Orc, Warboss, Warchief, Ransom, Human, Negotiation, Garag Dorn, Lidia, Nyreen, Baneworms, Stagnant Water, Rogue, Divine Intervention, Vengence, Declaration of War, Oral, MFF, Rouge, Nudity, Combat, Oculgre, Magic, golem, giant rat, Fighter, Bronze, Armor & Weapons, Exercise in Futility, Snake, Breeding, Rough, Violence, Inflation, Size Difference, Cervixal Penetration, Pregnancy, Mind Break, Collar, Control, Evolution, Level UP!, Character Sheet, Corruption, Non-Con, Mage Nora, horror, taken over, sekmet, possession, masturbation, Tamer, Thick as bricks, Trap, Fairy, Gazer, Paralysis, Snake, Simon_Silver, Erotic Patch, Molly the Tamer, Rape, Amazon, Anal, Witch, Guild Hall, Fenris, Major Split, role reversal, Mage Nola, Enemy, Video Game, Online, Foot, Footsteps, Simon_Silver, 'Fenris', The Mifune Clan Guild, Quartermistress, Clothing, Lovers, Warrior Jurh, Rogue Ina, Bard Ani, feet, Hermaphrodite, Gnoll, Village, Monsters, MMORPG, Body Modification, Enslavement, hero, heroine, Succubus, plant, Ambush, Ghouls, Hidden Treasures, Racist, Dwarf, Spray, Stink Gland, Rogue, Sorceress, Priest, Dubcon, Group, Fluids, Death, Level Up, 2 Girls, Party Defeated, Ambush, Surrender, Ghouls, Battle, Paralysis, Cannibalism, Captive, Death-Before-Dishonor, Major Split., Stench, WereSkunk, Skunkubus, Smell, Timber, Crush, Stamina Potion, bukkake, Major Split., Bar, Coffee Stain In Tuscany, Miracle, Worshipers, Nascent Cult, Reach Out And Punch Faith, Torture, Rat King, Sewers, Ostvale, Stats Picked, Orcs, Road to Garag Dorn, Thank Prime, Richard, Echo Scarf, Sewers, Finish Her!, Fatality, Death Before Dishonor, Vicious Kill, Hear, Talk, Speak, Ear, Phase out, Regret, Big Damn Heroes, First Hint of Erotica, Jenna, Pack Leader, Transformation, Butt Plug, Cassowary's Crypt, Obdurium, Amulet, Blowjob, Scared, Frighten, Fear, Forced, Dominate, Kiss, Kisses, Rimjob, Breaking In, Waking Up, Checking Out On The Prison Bus, Lake Kraken, drug, Jenna, Pack Leader, Max, Vera, Micro-Boss, Cassowary's Crypt, Max, Marriage, Mawage, Bargaining with a kraken, White Hand Inn, Barkeep, Rogue Faylen, Amazon Eonoe, Curb Stomp Battle, Gather The Horde, Lucky Break, Male, Female, Verge of Death Arousal, Fiendkin Nor, Sex, Huge Penetration, History, War, Battle, Monk, Monastery, Story, Crusade, deity, Cursed Dagger, Mare, Meeting Of Minds, Plans Are Laid, Torturer, addictive cum, cumshot, Amnesia, Goddess, Kluexcia, Holy, Lovely, Forgotten, Elder Goddess, Spike Traps, Hallway, Clue, Ninja, Wicked Game, Exposition, Knowledge Is Power, spider, Red Torture Chamber, Rack, McGuffin, Rolled a 1!, Mary Jane Gray, Pack Leaders, Spike Traps, Gaff Hook, Dungeon, Domination, Harem, Magical Erotica, Post-Sex, Stink, Potential, slavery, Taming Tag, Forced Masturbation, chicken, Amazon Julyen, gag, ring gag, Turned, Cum, Witness, The Vault, Maze, village idiot, dark elf, peasant, The brothel door opens, Nimrod Zodiac the Corinthian, High Temple, Resurrection, 'Sandman' Reference, Historical Reference, IRL Reference, No Looting PCs, Unfair Advantage, God, Armok, Bargain With Heaven, Overclock, Setup, Mother and daughter, MILF, Elf, Granny, Orgy, Loot!, Armed Party, Break Your Wyrd, Defy The Gods, Hard Reboot, Player-Pawn-Demotion, Class Change, Turning Point, Cleric, Bride, Lorchos High Temple, spriggan, archer, Kelly, adventure, Creature, Erection, Pussy, Panties, Aim, 69, Tougning, Woman X Monster, Slaves, Sheep, Critter, Rousing Speach, Equipment Screen, Waitresses, Blacksmith's Shop, Divine, Gold, Beauty, Lore, lady, Risk, Theft, Equipment, Dastard, Opportunity, Waitresses, Adventurer, Giant, Halfling, Assassahate, Vengeance, Rapist Dealt With, Level Up, Loot, Warrior, Dick!, Level-Up!, Lesbian, Incest, Fiendkin Nora, Force some imps to build a pit, Gear Up, Digression, Grandfathered, Cultists, Burnt Out House, First Notes Of Erotica, fingering, Gear Up, Running Out Of Steam, Vomit, Tree Skunk, Forest, Elven, Pillage, Electrotorture, Futanari, Argument, Ass, Ranger, brunette, Barbarian, Torturer, Micro-Boss, Red Torture Chamber, Pack Leaders, Hard Fought Victory, Gracious Charity, Plan, Pyrrhic Victory, teasing, Dead, Fight, Surprise, Palladian, Red Rage, Corpse, Fight, Perfume, Power, Growth, Strength, Fox Spirit, Kitsune, relaxation sex, Feeding Frenzy, Mary Jane Gray, Fighting, paladin, Turning, Gold Plate, New Ghoul, Unknown Class, Even Gods Need Miracles, Font of Power, Blessed Day, slave, Nimrev: God of Vermin, Prophetess, GREAT DAY!, Perfect Upgrade, Exposition, Drow, Hobgoblin, Orc, Troll, Thrall, Deep Elf
Updated on Jul 17, 2019 by All Around Clown
Created on May 11, 2015 by Cantalope
29,523 Likes
9,588,511 Views
2,766 Favorites
3,668 Bookmarks
1,943 Chapters
79 Chapters Deep