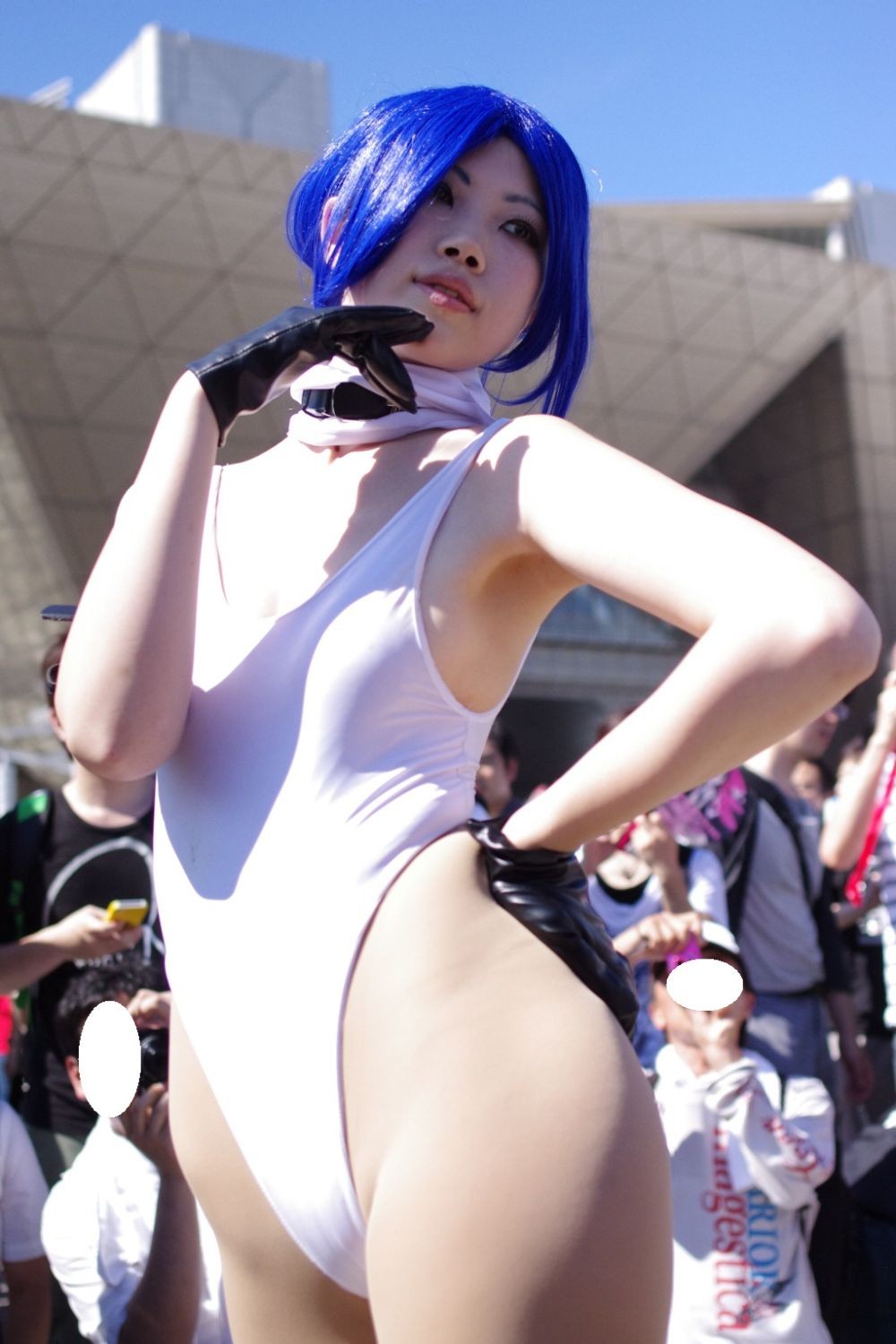 Cosplay Catastrophe
Girls lose their costumes and cameras love it in this erotic adventure.
Chapter 1 by

IGankMid
The Seriously Awesome Expo (SAX) has arrived! Lights, glamor, and glory await in the convention center's halls for those who can claim it. SAX is the largest and loudest event of the year for gamers, comic book lovers, and pop culture fanatics of all kinds. You name it, they've got it!
Not only does it play host to the biggest names of the industry, it sponsors the fiercest cosplay competition of the year: Cos-Clash! With the massive influx of money comes massive advances in costumes and props, eye-popping wonders of technology are just as likely to be in a cosplayer's hands as they are to be demoed on stage.
Cosplayers are presented below with their real name followed by their screen name on cosplay forums. Hair colors correspond to "natural" colors; costumes and wigs will obviously change them.
The BB Brigade
The BB Brigade is a group of girls at the tail end of their college experience. Though they may not be on the same level of cosplay skill, these girls all share a deep friendship and an even deeper passion for the magic and wonder of costumed roleplay. What does "BB" stand for? The answer changes depending on who you ask!
The BB Brigade loves to do themed cosplays as a group, but they may or may not break tradition this year.
Teresa "Terri" Brown (StartingGunner): An energetic, spunky first-timer who can't wait to slide into character. This year is the first time she's been able to get away from the track and field team long enough to make a costume of her own. Though her sewing skills are a little lacking, she more than makes up with it with enthusiasm. Brunette: Lithe, taut and toned.
Lynn Choi / Choi Hyo-Rin (Bunny Hapa): A half-Korean cosplayer with her own following on social media. By far the most experienced of the group and perhaps a bit overconfident, she's determined to take first place in this year's Cos-Clash. If not that, then at least she can build her viewer count on Twitch. Black hair. Slightly skinny, but her costumes always seem to have all the right curves in all the right places.
Kiona Williams (LadyofWar): Kick-boxing enthusiast and recently graduated park ranger that can't keep her hands off big hunks of armor. Loves to layer herself in Wonderflex and ceramic- she'll never get tired of her Samus cosplay. Dark-skinned, black-haired and fierce.
Marigold Markov (LittleLambX3): Shy, demure and definitely doesn't mind if you pay way more attention to the much nicer cosplay next to her, thank you. Her friends always try to get her into costumes that show off her prodigious bust, but she'd rather die than show off something she's so self-conscious about. Platinum blonde hair and pale white skin, with soft curves and a killer rack she keeps hidden with bulky clothes and tight bindings.
Joy Schneider (AngrySchnauzer): The mastermind behind the BB Brigade's truly astounding props and weapons. She realized in her first year of engineering that she could get extra credit by designing and building cosplay, and things snowballed from there. Short and a little bit snappy, she's terrible with fashion and lets other people build her costumes for her. Dirty blonde and curvy in the best way, though she doesn't particularly care what people think about the junk in her trunk.
The "DD Brigade"
Lynn's nickname for a clique of busty bombshells led by the 'biggest' among them: Akane Shibasaki, Lynn's most intense rival in the streaming scene. The more cleavage a costume has, the more likely it is to be in the DD Brigade's wardrobe. The group is flirtatious, vivacious, and not above using a little charm what they need... except for Saki-chan, who lets her minions do most of the leg work and fiercely protects her snow-white image online.
Akane "Saki" Shibasaki (Saki-chan): Leader of the DD Brigade, with epic-sized boobs befitting her station. For all her group's racy and risky cosplays, Saki-chan has yet to have a single wardrobe malfunction: she's very, very aware of how many people are only watching her to see when the blessedly buxom cosplayer will slip up and show too much. The moment her fans see too much is the instant she loses that magical mix of chastity and sexuality, going from a legendary tease to just another girl who won't do porn. As a full-blooded Japanese girl, Saki's skin is a warm olive color and her hair is a deep black.
Corinne (LoveBug): A flirty and vivacious girl with no concept of personal space. She has the second-biggest boobs in the group and loves to show off as much as Saki will let her get away with. Corinne loves cosplays that let her bring out her wild side, whether that's with cat ears, dog ears, or once, when Saki wasn't looking, even wearing a leash: it gives her the perfect excuse to get up close and personal with the crowd and say she's "in character." Corinne has black hair with a silver sheen.
Rachel (WiltedDawn): A serious and composed girl with a taste for all things morbid, evil, and depressing in general. Rachel and Saki are childhood friends, but neither will tell you how Rachel actually started out as Saki's personal bullying victim. Rachel secretly likes cute things like kittens and roses, but Saki maintains that dark and depressing is what suits her better. Rachel is deathly pale and has extremely light, brown hair she's dyed black since high school.
Tessa (BrushedonBeauty): At a mere D cup, Tessa has the smallest boobs of the group. Don't let that fool you into thinking she's forgettable: she doesn't build her costumes so much as paint them on. Tessa cosplays to feed the side of her that loves showing off every curve of her nearly-naked body to anyone who will look; she lives for thrill of knowing everyone is seeing her this close to naked, but will never get to see those few tiny inches that make all the difference in the world. Her hair is a natural fiery red.
The Professionals
Some cosplayers aren't at SAX just for fun: they're getting paid, too! For cosplayers willing to sign on to a company (or 'sell out', as Lynn says), there is an opportunity to get paid to play dress-up with the newest, most marvelous technology on the planet. What's the downside? The employee-cosplayer must maintain a "respectable level of dignity" while wearing their often-skimpy costumes, or else their job is in jeopardy. Professional cosplayers will often use their company's legal teams to force takedowns of any unauthorized photos and will sue more often than not, earning them the ire of some shutterbugs and cosplay purists.
Companies that hire cosplayers include Electric Sheep Robotics (novelty robot companions of varying intelligence), Mirage AudioVisual (holograms and light-bending technology), and others.
The Independents
???????? (Lonely Rhodes): A cosplayer of exceptional popularity. Known only by her tag online, she's been given the nickname "Duchess of Rhodes," or just "Rhodie." Her outfits are daring, baring, and always show off her killer body while giving no clue as to her identity. She loves masks, prosthetics, body paint and heavy makeup. No one knows her hair color, eye color, or even her real cup size. All that's for certain is that she's a statuesque stunner who prefers to keep her identity a secret.
Gabriella "Gabi" Alvarez (ArcadeSchtick): A double whammy of fighting game competitor and cosplay enthusiast. Loves to dress up as characters she's played as her "mains," though she's shied away from more revealing outfits... until this year! Brown skin, black hair, slight bust, flared hips and bubble butt.
Danielle: A very reluctant first-timer, blonde-haired Danielle agreed to cosplay after she lost a bet. She has very little online presence and thinks cosplay and conventions are silly, nerdy wastes of time. She's a bit on the short side, though her legs are thick, strong and lead up to an awesomely ample butt.
The Perverts
For people with questionable morals, sticky fingers and a quick shutter, there's always a way to make a few extra bucks. The black market for buyers of sneaky snapshots and "souvenirs" of popular cosplayers is alive and well at SAX... if you can find it.
((Extra characters are welcome and will be added to this page as appropriate. Cover image is used under the Creative Commons license from Hikaru Kazushime.))
Who will we join on their adventure?
It's time for the Seriously Awesome Expo (SAX), and this year's collection of cosplayers are eager to show off their work! Unfortunately, they may end up showing off more than expected...
POV

3rd Person, Female
Category
Language

English
Mode

Moderated
Tags

swallowing, threesome, anal, cunnilingus, piercing, lesdom, Caught, D.Va, Wardrobe Malfunction, X-ray Vision, groping, fondling, rivalry, Masturbation, public, girl on girl, lesbian, Fingering, voyeur, panty sniffing, underwear, Photos, first time, naked, on camera, sex toy, vibrator, stripping, forced nudity, fmf, oral, ENF, EUF, Foursome, fmff, blowjob, facial, spanking, Shower Oral, massage, Handjob, watched, Bath, Cosplay, Virgin, Overwatch, Time Stop, Time Stopping, insertion, photographed, Cum swallowing, blackmail, Panty raid, Femdom, leg humping, make out, shower, Orgasm, Tracer, creep shot, nudes, Sixsome, orgy, fmffff, fffffm, ffm, ass eating, analingus, truth or dare, cum swap, snowball, stealing clothes, Nier Automata, 2B, butt plug, embarrassment, creampie, anal creampie, Mfm, double oral, strap on, gagging, Face sitting, friend, Panty theft, panties, finger licking, Face fucking, Butts, Doggy style, domination, Felch, cum eating, kissing, Skullgirls, Ms. Fortune
Updated on May 5, 2019 by IGankMid
Created on Jun 24, 2016 by IGankMid
5,275 Likes
1,084,979 Views
495 Favorites
195 Bookmarks
672 Chapters
134 Chapters Deep