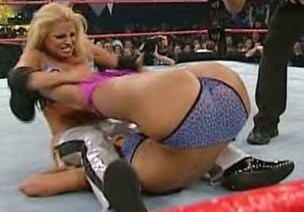 Bra and panties match
WWE/F story
Chapter 1 by

rvd1217
First things first we should pick our participants, they can be from any fed/even your own CAWs hell they can be yourself if you so please. If you don't want to write, but want to see a particular match, shoot me a message with as much info as you can.
Who is the first competitor?
So remember the WWE prior to 2006ish when they would have divas compete in degrading matches like bra and panties matches where the object was to strip your opponent down to her bra and panties? That's what this story will be.
POV

3rd Person, Both
Category
Language

English
Mode

Public
Updated on Aug 6, 2019 by thepac
Created on Apr 3, 2016 by rvd1217
1,576 Likes
1,441,619 Views
183 Favorites
69 Bookmarks
819 Chapters
51 Chapters Deep