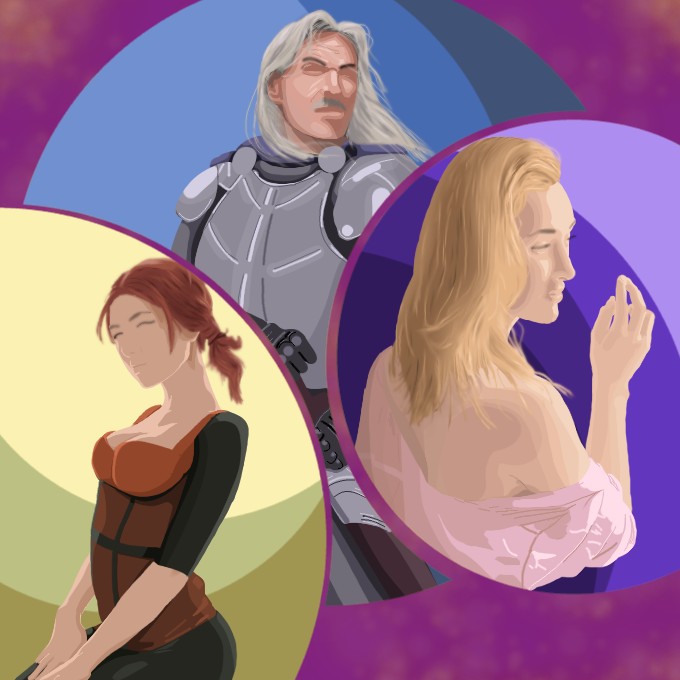 Fantasies of Ilustoria
The Twisted Tales of a strange realm where fate leans toward the erotic.
Chapter 1 by

ErisAphrodite
Welcome to The Library. Not a Library like any you've known, no. This one deals in certain stories pertaining to the Legends of a specific realm--Legends that delve into details unfit for the prudent public. But they are no ordinary tales. These tales are much like the tree their paper was cut from, branching out at every possibility their Heroes meet. But enough of that, there are Fantasies to be had!
The Heroes of Ilustoria are not many, but of the few, those whose tales are befitting of this library are as follows:
Princess Xalendra: The young Maiden of Castle Xolstice, whose porcelain skin and hair of golden sunlight would be enough to make anyone swoon, and whose slender curves would make them do even more.
Sir Orus: A brave knight who serves his kingdom by taking the more unusual quests his people need completed, who's earned an impressive physique in the process.
Vivia the Rogue: A proud adventurer with copper locks and a healthy tan, who never stops searching for her next interesting job, and isn't shy of danger.
Enter the Kingdom of Ilustoria: a wonderful realm where fantasies come to life. Where spectacular creatures dwell, and magic runs abound. Castles and Towers filled with secrets and intrigue, and wildlands strewn with danger and surprises, all this and more await the denizens of Ilustoria. Their lives become part of the realms fables, but some fables are best read in private. Those are the kinds of stories you will find here, of which there are many possibilities to follow.
POV

3rd Person, Both
Category
Language

English
Mode

Private
Tags

Centaur, Princess, Ring, Flower, Oral, Mouth, Stripping, Spell, Nude, Mermaid, Hypnotize, Singing, Siren, Rogue, Horseback, Kiss, Handmaiden, Lust, Magic, Knight, Witch, Lotion, Balm, Hills, Nectar, Poison, Snake Bite, Nymph, Water, Hotspring, Cold, Cave, Fire, Marriage, Queen, Lesbian, Curse, King, Saddle, Stranger, Plant, Vines, Plant Girl, Fairy, Servant, Sleep, Forest, Slime, Creek, Wash, Tent, Woods, Public, Warmth, Masturbation, Sucking, Fingering, Anal, Dreamcatcher, Dream, Sleeping, Wedding, Snake, Bite, Stable, Caught, Handjob, Bondage, Horse, Threesome, Tower, Peeping, Tentacles, Biting, Undress, Disrobe, Strip, Gender-change, Sword, Orgasm, Missionary, Hot Spring, Steam, Cowgirl, Bedroom, Force, Cunnilingus, Body-Swap, Bath, Bound, Bottle, Swim, Tree, Venom, Naked, ENF, Water Nymph, Mountain, Fork, Body Swap, Medieval, Fantasy, Ilustoria, Stretching, Vibrator, Castle, Tied, Futa, Trapped, Gag, Tickling, Ointment, Afterglow, Bed, Tickle, Capture, Ride, Analingus, Licking, Festival
Updated on Feb 15, 2019 by ErisAphrodite
Created on Apr 8, 2017 by ErisAphrodite
177 Favorites
49 Bookmarks
120 Chapters
16 Chapters Deep