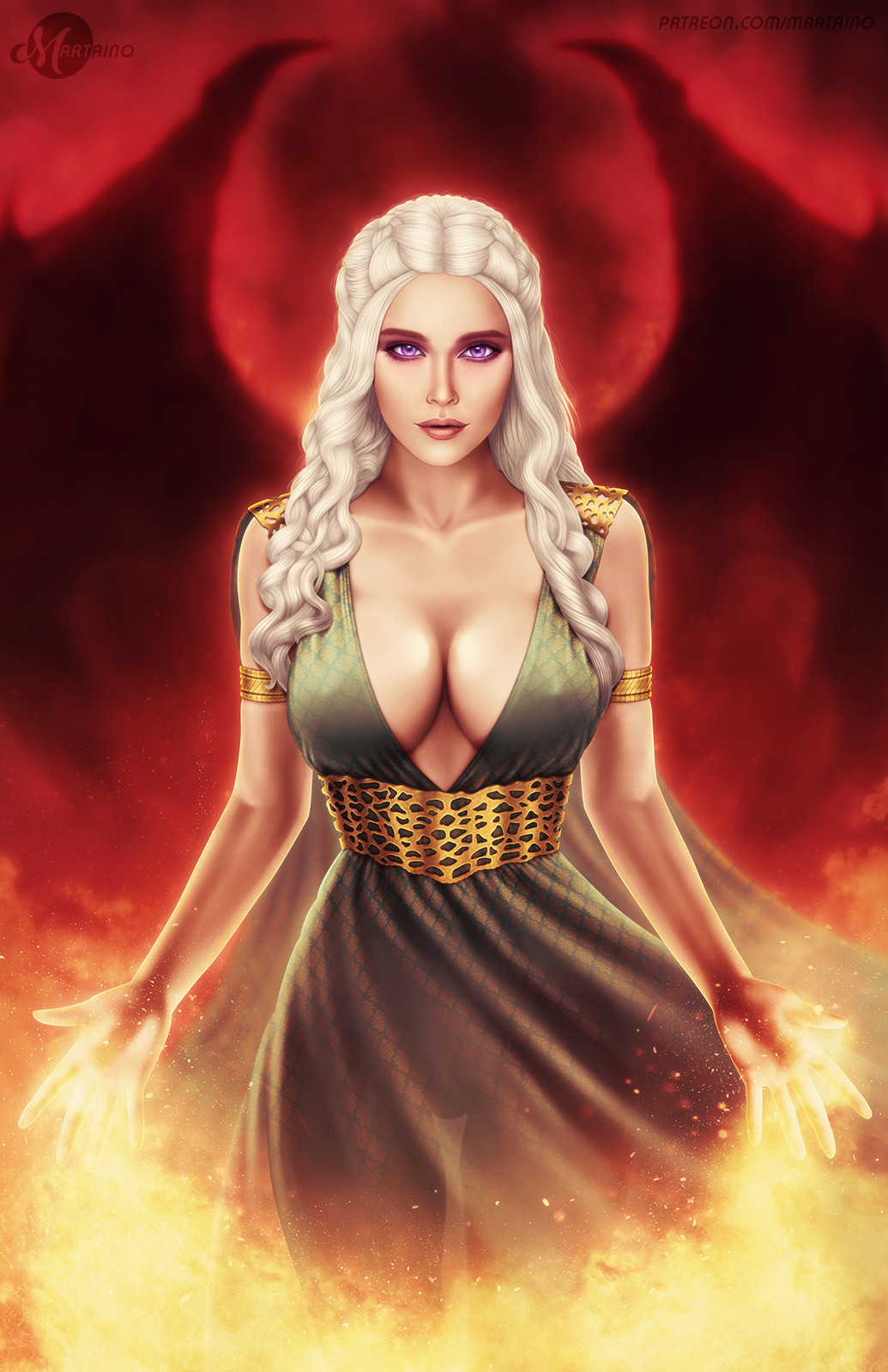 The Dragon King
Lord of The Seven Kingdoms
Chapter 1 by

Lstark96
In an alternate universe, Robert's Rebellion has failed and after winning the epic duel at the Trident, Crown Prince Rhaegar Targaryen spared Lord Robert Baratheon's life. Alongside his new brother-in-law, Lord Eddard Stark, Rhaegar led both the Rebels and the Loyalist armies to the capital to depose his father only to find the Mad King stabbed in the back by the young kingsguard, Ser Jaime Lannister.
Thrust upon the Iron Throne at a young age, King Rhaegar adopted the ancient valyrian custom of polygamy and took two wives, just like the first Targaryen king, Aegon the Conqueror.
Despite the taboo of bigamy, the lords of Westeros did not oppose their new king as it was evident that he would go to war for his new bride, Lady Lyanna Stark. At first House Martell took it as a slight upon their pride but eventually accepted the arrangement as it was an open secret that the bisexual Queen Elia Martell was even more fond of Lyanna as Rhaegar was. Hopeful at the apparent end of incestual kings, the High Septon of the Seven even blesssed the unorthodox marriages.
Despite the somewhat tenuous start to his reign, King Rhaegar proved to be a wise and capable king and for 20 years the Seven Kingdoms of Westeros endured an unprecedented era of peace and prosperity. However good things never last long in Westeros and just before the 21st anniversary of his reign, King Rhaegar suspiciously passed away after an ill-fated trip to Essos.
Follow Rhaegar's son, the newly crowned Lord of the Seven Kingdoms and Protector of the Realm as he embarks on a journey filled with sex and adventure.
Follow a young king on his quest to find a suitable queen throughout the realm of Westeros and as he enjoys the perks of being royalty. However, peace never last long in the Seven Kingdoms...
POV

3rd Person, Male
Category
Language

English
Mode

Moderated
Tags

Royal Gardens, Citadel, Order of Maesters, Ser Davos, Davos Seaworth, Tala Tarly, Queensguard, Lord Commander of The Queensguard, Hand of the Queen, Hand of The Queens, Howland Reed, House Reed, Meera Reed, Jojen Reed, Crannogmen, The Neck, Ned Stark, Greywater Watch, Brother-Sister, Sibling Incest, Pregnancy risk, Bareback, Old Valyria, High Valyrian, Ghiscari, Myrish, Norvoshi, Qohorik, Pentoshi, Lysene, Braavosi, Valyrian Freehold, Roslin Frey, Lothar Frey, "Lame" Lothar, "Lame" Lothar Frey, Walder Frey, "Late" Walder Frey, The Twins, House Frey, House Tully, Hoster Tully, Dance of Dragons, Maelys Sand, Maelys Blackfyre, Aemon Sand, A Song of Ice and Fire, Game of Thrones, Incest, King, Harem, White Stag, Weirwood, Dragon Bone, Dragon Bone Bow, Weirwood Bow, Acting Lord Commander, Val, Wildling Princess, Mance Rayder, Mance Rayder's Son, Benjen Stark, Princess, Harrenhal, House Hoare, Nights Watch, Night's Watch, Cersei Lannister, Disowned, Stepmother, Ankh, Arianne Nymeros Martell, Margaery Tyrell, House Tyrell, Mace Tyrell, The Reach, Dorne, Sunspear, Aegon Targaryen, Aegon VI Targaryen, Drowned God, Drowned Priest, Euron Greyjoy, Balon Greyjoy, Victarion Greyjoy, Yara Greyjoy, Theon Greyjoy, Pyke, Iron Islands, The Stepstones, House Greyjoy, Salt Wives, The Wall, Sand Snakes, Arianne Martell, Foursome, BDSM, Dominatrix, Snow Bear, House Cerwyn, House Glover, House Forrester, Gregor Forrester, King Jaehaerys III, Maester Luwin, House Mormont, House Karstark, White Walkers, Dalla, Sand Snake's, Paxter Redwyne, House Redwyne, Mina Tyrell, Desmera Redwyne, Horas Redwyne, Hobber Redwyne, Samwell Tarly, The Arbor, Ashara Dayne, Icemark, Greyguard, Nightfort, Queenscrown, Queensgate, Castle Black, Black Brothers, Master of War, Master of Ships, Master of Coin, Master of Whispers, Master of Laws, Grand Maester, Hand of the King, Kingsguard, Lord-Commander of the Queensguard, Lord-Commander of the Kingsguard, Nine Penny Kings, War of The Nine Penny Kings, Dacey Mormont, Alys Karstark, Battle of Castle Black, Great Ranging Beyond The Wall, Great Ranging, Royal Wedding, Battle of The Fist of The First Men, Mutiny At Craster's Keep, Melisandre, Kinvara, Red Priest, R'hllor, Thoros of Myr, Seven, The Faith of the Seven, The Drowned God, The Children of the Forest, The Old Gods, Casterly Rock, Grand Tourney, Renly Baratheon, Visenya Targaryen, Visenya Blackfyre, Wyman Manderly, Janna Tyrell, Mira Forrester, Talia Forrester, Ethan Forrester, Brightroar, Jamie Lannister, House Casterly, Lann The Clever, Maekar, Maekar Targaryen, Maekar I Targaryen
Updated on Apr 14, 2019 by Lstark96
Created on Sep 12, 2018 by Lstark96
274 Favorites
294 Bookmarks
75 Chapters
26 Chapters Deep