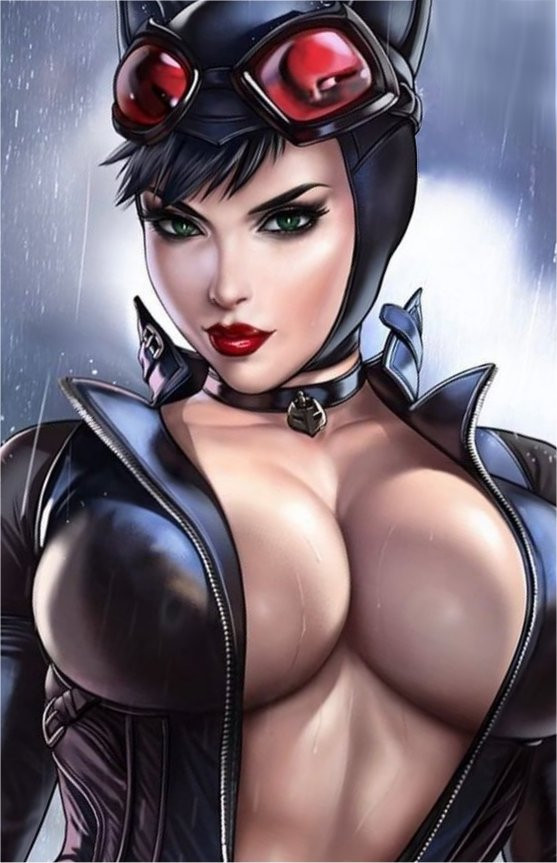 Blind Date with Catwoman
Surviving a night with the Princess of Plunder.
Chapter 1 by

porneia
"Oh come on." You mutter as you cancel out the call you were dialing at the sound of the doorman's buzzer in your apartment.
Shoving your cell into your coat pocket you hold down the answer button on your digital intercom and answer, "Yes?"
"Dr. Anderson, a Ms. Kyle to see you, she says you have date."
"I thought her name was Novak." You wonder to yourself, "and she is over an hour early."
"Dr. Anderson, are you there?" The intercom interrupts your pondering. "Should I let Ms. Kyle in?"
"Yes, of course." You quickly agree.
You have been debating for hours whether you should, or even could, call off this blind date. Your boss, Dr. Anne Rorbeck, the Head of the Pediatrics Department at Metropolis General Hospital, has been trying to set you up for over a year. She finally cornered you, using your birthday no less as cover for her insistence that you accept her present: Two tickets to some boring play called "Hello Mr. Shuster!" opening at the Siegel Theatre while tacking on at the end that she also found "just the perfect date for you for the evening."
You know Dr. Rorbeck means well, but when a 64 year old woman describes your "perfect date" as a "very good person, with a nice personality" it is hard to get excited about it, let alone remember the details.
The real reason why your boss has been so insistent, however, is obvious. It has been over two years since your beloved Jane has past. You haven't been out on a date since it was with her in college, and the last time you had sex was over three years ago, right after Jane's cancer set in.
Looking at your wedding picture which hangs in your hallway you ask out loud, "Is it time?"
The ringing of your apartment doorbell apparently answers your question.
---
[I strongly suggest you do NOT use the "Start Game" option, and if it's running then turn it off by pressing "End Game" (in the "Score" tab on the right). The game option is only used for the "Games" subsection listed below.]
How do you greet your blind date?
You're a widower and successful doctor in Metropolis who is mysteriously set up on a blind date with the feline femme fatale herself, Selina Kyle, aka Catwoman.
POV

2nd Person, Male
Category
Language

English
Mode

Moderated
Tags

Zatanna, Lady Shiva, Harley Quinn, Poison Ivy, basketball, denial, tease, swearing, dirty talk, paddle, paddling, strip poker, poker, wager, bet, gambling, spanking, dancing, striptease, fight, judo, martial arts, Vampirella, cosplay, convention, catwoman, blind date, date, selina kyle, romance, mystery, dcu, seduction
Updated on Apr 7, 2019 by porneia
Created on Dec 30, 2018 by porneia
You can customize this story. Simply enter the following details about the main characters.
With every decision at the end of a chapter your score changes. Here are your current variables.
2,515 Likes
222,700 Views
379 Favorites
152 Bookmarks
212 Chapters
50 Chapters Deep