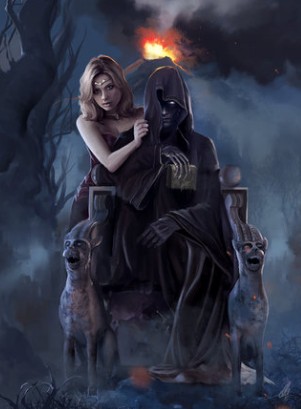 Dark Lord
Take revenge on a fantasy realm as the villain of this tale
Chapter 1 by

Fiend21
You sit in the same dusty shop that you've worked in all your life, surrounded by artifacts, jewelry and other fancy goods that you could never even hope to buy. You stare mindlessly ahead, knowing that a long day of unending labor lies ahead of you.
As an orphan, you're practically the lowest of all classes. The nobility and clergy wouldn't even waste the moisture to spit on you. The merchants use your kind as cheap labor to be used. The warriors bully and harass and abused and even the peasants wouldn't bother to talk to you. Even the slave have more rights than you, as there's at least laws to prevent the worst of abuses being committed against them.
The non-humans are even worse. What few Elven species you've encountered would never bother to talk to you. The Dwarves see you as a commodity and little more. You've never met any fairies or nature spirits, but you know they wouldn't give a shit about you. The only ones who don't look down on you are Orcs, Goblins and Giants, and most of them are barred from entering the town.
Suddenly, the door to the shop swings open, and your eyes burst open as you hurry to look busy.
"Boy!" the swarthy merchant Ober says, marching into the shop. "Any sales while I was out?"
"No, sir," you answer in respond, bowing your head.
"Empty your pockets. I need to see you haven't stolen anything," Ober demands.
"But...!" you say in protest, before Ober raises his studded beating cane.
"I said empty them!"
You hurry to empty your pockets, revealing them empty. Satisfied, Ober pushes you away from the counter.
"Hmpf. Get away, your ugly mug must've been scaring away the customers," he says in annoyance. "There's a shipment of precious goods in the basement."
"Shall I put them on display?"
"No!" Ober says abruptly. "The clergy would have my head, you fool! I need them cleaned and polished."
"Yes, sir," you nod.
You turn, heading to the back of the room, where you find the trap door down to the basement, heaving it up, you slide in, quickly vaulting down the ladder. You hurry to light the lantern that hangs there, before the small basement is illuminated. You quickly find the newest crate that lies there, heaving it open. You stare inside at the various goods that lie there, curious.
From the looks of it, it's all infernal gear, tainted and corrupted by the damned forces of demons and what lies beneath. A hooded, black robe lies in the crate, outlined with silver thread. Black, plated armor sits underneath it, stacked there with an unnerving look. A large mace of ebony lies next to it, with veins of red running through it. It's head is fashioned to look like a grinning, spike-covered skull, and it looks like a fearsome weapon. Lying under it sits a beautifully carved red statue, with gold and black veins running through it. You pick it up, staring at it. The statue is an intricately detailed state of a beautiful, daemonic woman, sitting seductively on a pedestal. A pair of black, ebony wings lie tucked behind her, with two ebony horns sticking out from her forehead. Her eyes stare seductively into your as you rub a hand over her huge, perky-nippled breasts.
Well, best get to cleaning.
After endless persecution at the hands of the so-called "higher"races, you must take your revenge on this realm, one soul at a time.
POV

2nd Person, Male
Category
Language

English
Mode

Moderated
Updated on Oct 3, 2018 by Fiend21
Created on Aug 26, 2017 by Fiend21
You can customize this story. Simply enter the following details about the main characters.
With every decision at the end of a chapter your score changes. Here are your current variables.
2,945 Likes
1,209,422 Views
972 Favorites
468 Bookmarks
344 Chapters
72 Chapters Deep