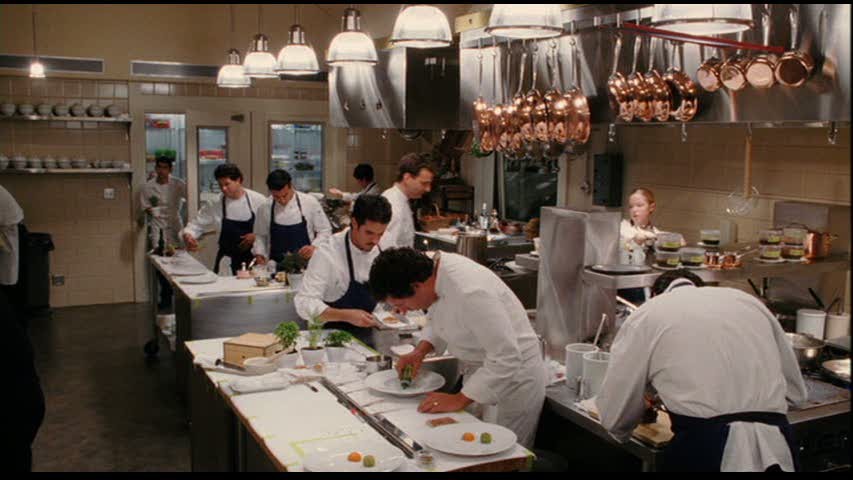 Oui, Chef.
Kitchen going down.
Chapter 1 by

sebbsio
It's just past one in the afternoon as you sit by yourself in a small corner booth in one of New York's newest restaurants, 'Amuse,' here in the Upper East Side. You've worked in quite a few high-end restaurants, but none quite like this - it's almost intimidating. The soaring coffered ceiling and the refined neoclassical architecture is an elegant refuge from the pace of city life. Custom chandeliers and greenery are spread throughout the dining room along with some impressive pieces of artwork as well. Looking over at the bar, it's understated elegance, and moody hues give it an old-world European charm as the bartenders clean and prepare garnishes for tonight's service.
Within its first year of being open, it's head chef Jane Smith has been awarded a James Beard award for Outstanding Chef - and the restaurant itself two Michelin stars. The hostess stops by your table and politely tells you that the chef got caught up with a few things in the kitchen and will be out any minute. You thank her, and she quickly hurries off to the small podium by the entrance where she continues to take reservations for the night. Suddenly, you go over the little script you have in your head in regards to your past jobs in the fine-dining industry and pick the ones you'd like to highlight for the chef, just then, you hear a voice call out from a small hallway just a few feet away that leads into the kitchen.
"Mr. Doe?" the chef calls out, as she rustles through a few papers on her clipboard.
You immediately stand up and take a quick second to fold out the small creases in your navy-blue suit before you extend your hand out to greet her.
"Yes, chef. It's a pleasure meeting you Ms. Smith."
She smiles lightly and motions you to sit back down as she takes the seat directly opposite of yours. You're pleasantly surprised at her small, thin figure and can't imagine her on the pass yelling and screaming at a bunch of cooks in the middle of service - she can't be taller than 5'3 you reckon. You take a moment to admire her features as she goes through your resume. Her small oval face and slightly pointed chin perfectly accentuate her strong jawline, paired with thinly plucked, high-arching eyebrows that add a look of surprise and interest. She brushes off a lock of her beach blonde hair that gets in her way, and you can't help but notice she's a little on the pale side as she places a hand on her neck and takes a second to readjust herself in her seat.
"You have quite the resume here, Mr. Doe. I see you've worked with a few close friends of mine in other restaurants - and it seems like we went to the same culinary school, interesting."
She looks up at you with small, dark brown eyes that are spaced apart evenly that lead down to a button-like nose. You quickly take note of freckles lightly adorning her face from cheek to cheek, before she goes back to skimming through your resume - quietly nodding to herself and repeating a few things she finds noteworthy.
A talented young chef wants nothing more than to work in one of New York's most beloved and prestigious French restaurants, but while he's there, he suspects that his executive chef may have feelings towards him. Will he act on his urges? Or focus on the work at hand?
POV

2nd Person, Male
Category
Language

English
Mode

Moderated
Updated on Mar 12, 2018 by sebbsio
Created on Mar 12, 2018 by sebbsio
You can customize this story. Simply enter the following details about the main characters.
With every decision at the end of a chapter your score changes. Here are your current variables.
1 Chapters
1 Chapters Deep