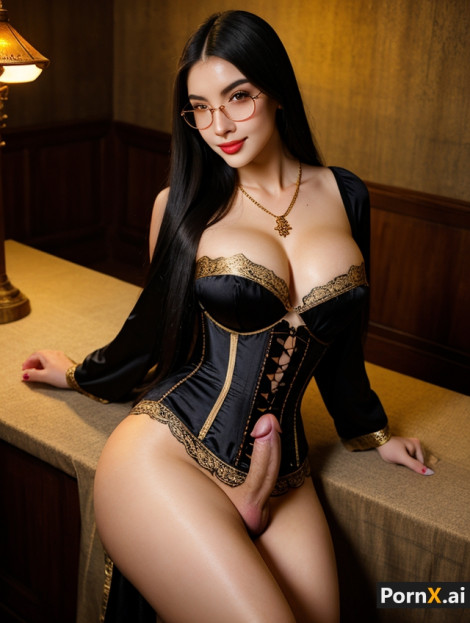 Number One Tgirl
The Best Pornstar In The World!
Chapter 1 by

helpme!
Hello I'm a twenty years old trans woman.
My name is Isabella Steele I'm 5,9 and 145 lbs with midnight-black hair and brown eyes. I also have a small problem, I always felt like a woman but now I look the part after my transition. But that's not the problem the problem is that I'm addicted to sex. Not love. Not romance. Not relationships. Sex. Hard, dirty, nasty, sweaty, raw, unadulterated, animalistic, rough, kinky, perverted, humiliating, filthy, disgusting, and above all else, completely and utterly debauched and depraved sex.
And to be honest I'm just a cock slut, plain and simple. A horny, lustful, cock-crazy slut. That love the thrill of sex
This is why I wanted to become a pornstar to show the world how big of a slut I I'm. Also, it would help me pay for rent.
So I started an onlyfans. So far it's just been me posting picture sets but now it's time for my first video. But first I need to do something big.
So I decided to head to the sex shop I go to all the time I know the owner ( Alexander Hayes, 35 years old, 6'1 and 185 lbs with his jet-black hair and hazel eyes ) very well. From all the visits over the years.
"Hey, Mr. Hayes," I say walking into the store.
"Hi Isabella how's your day been?" He asks.
"Good, I'm here for a dildo to film with to post on my only fans," Isabella tells him.
"OK. Do you know which one you want?"
"Yes, that 9-inch tentacle one that you were telling me about last week " I reply
"You have the money for it?" He asked.
" Yeah, that's why I asked to buy it!!!!" I laughed
" Well save your money I think I'll take the other form of payment you have "
"Sure what did you have in mind" I ask with a smile.
"Follow me to the backroom"
I follow him and when he opens the door I see what he wants.
"Kneel whore and suck my cock"
"With pleasure Alex " I reply smiling
He pulls his dick out and it's fucking huge I'm not joking this guy must have an 11-inch long by 6-inch thick dick.
"Come on bitch suck"
Isabella Doesn't hesitate to open her mouth and slide it down his cock. I get as much in my mouth as I can and start sucking like a pro.
"Holy shit you really are a cock slut" He moans.
I start bobbing my head up and down as fast as I can going more and more. Youll end up deepthroating him at this point.
"Damn Isabella you look so sexy"
He puts his hands in my hair and starts pulling me up and down on his shaft. I start gagging.
"I'm close"
"Mmmm"
I keep going and before I know it he was filling my mouth with cum. I swallowed all I could but the amount was too much. I pull my head back and his dick springs free from your mouth. But his cock is still hard.
"Damn Isabella you're the best"
"Thanks"
"Now strip whore"
"Ok," I reply.
I slowly take my clothes off while swaying my hips around and putting on a bit of a show for him.
"You're a natural at this Isabella"
"Thank you"
I'm completely naked and he grabs me and pulls me into the backroom. He bends me over a table and I feel his hand slap my ass.
"Oh," I moan.
"You like that bitch"
"Mmhm"
He spanks me again and I moan. He then spits onto my asshole after that slamming his cock inside of me and then he starts thrusting long and deep.
"Oh fuck yes. Do you like that? Huh? Do you like my big black cock slamming deep into your slutty white tranny pussy?
"Tell me. Tell me you like it."
"Mmm oh fuck yes. Fuck me, Mr. Hayes. Fuck me with your big black cock."
"Tell me you're a whore."
"I'm a whore Mr. Hayes. Oh god. Fuck. I'm a dirty, horny, cock-hungry slut. Oh god, fuck. Please, Mr. Hayes. Please make me your whore."
"Beg."
"Please, Mr. Hayes. Oh fuck. Oh fuck. Please, Mr. Hayes. Fuck me. Make me your whore. I'm begging you. Please, Mr. Hayes. Fuck. Please. Fuck. Fuck me. Please. Fuck. Please."
"Oh shit I'm gonna cum"
"Mmmm yes give it to me please"
"Take my cum slut"
"Fill me up"
"Mmmm"
I can feel him explode inside me and I'm on the edge and before I know it I'm cumming too.
"Fuck"
"Oh"
"I think that seals the deal don't you think Isabella "
"Yes, Alex. You have a deal "
"Great let's go clean you up then you can take the dildo and have fun"
He helps me stand and then I can feel his cum drip down my leg.
"Follow me "
"Ok "
We go into the bathroom and he turns the shower on and makes sure the water is nice and warm. We get in and start washing ourselves. I wash my body while Alex washes his.
"You're beautiful"
"Thanks"
"No, seriously you are. You've always been beautiful, but now you're truly breathtaking."
"You're so sweet"
"Just being honest. Plus I know how much this meant to you. I remember the first time you came in here. How shy you were. You didn't even look me in the eye. And now you're a confident, strong, proud, and beautiful woman. I couldn't be prouder."
"Thanks, Alex"
We finish cleaning and he hands me a towel.
"Thanks"
"Here's another one for your hair"
"Thanks again"
I dry my body and wrap the towel around my head. Alex hands me my clothes and we leave the bathroom.
you home and record your only fan's video with the 9-inch tentacle dildo.
Want to support CHYOA?
Disable your Ad Blocker! Thanks :)
Isabella is a transgender woman who loves sex and will do anything to get it. She is also a huge slut who likes to fuck many different types of people. And having crazy pornstar adventures, so I hope you all like this story and please give me your feedback. Isabella Steele / 5,9 / 140 lbs / a trans woman whose allure is undeniable. Her midnight-black hair flows in elegant waves, framing a face adorned with striking Brown eyes that captivate you with every glance. Isabella's features are a perfect harmony, with high cheekbones and big boobs, and a phat ass.
POV

3rd Person, Both
Category
Language

English
Mode

Private
Updated on Nov 20, 2023 by helpme!
Created on Nov 18, 2023 by helpme!
5 Chapters
5 Chapters Deep