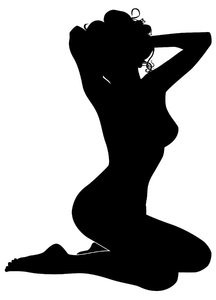 Indoctrination
Becoming something she's not
Chapter 1 by

Ash117
Jessica awoke at 6:30 am to the sound of her alarm clock beeping. She lazily slammed her finger down upon the off button. She pulled off the covers and slowly got out of bed.
Today was her second day at her new job. The first day was just a show around the office, but today was different. Today was the day it REALLY begain. Jessica was excited, despite her groggy body language saying otherwise. She cleaned herself up and got ready for work. She let her long, wavy, dark brown hair down and it reached a little past her shoulder blades. She decided not to go too heavy on the makeup, as usual. She added a little bit of foundation, a little mascara, and some natural looking lipstick. Jessica had a soft nose, soft cheeks, and a soft yet defined jawline. Her eyes were round and a very light blue. She decided to go with the basic white dress shirt and black pencil skirt for her outfit. The clothes complemented her slim, athletic figure. The top teasingly displayed her 34CC breasts, and her skirt showcases her nice, round, well defined, firm bottom. She was now dressed and ready!
She downed a breakfest bar and slipped on her black heels. She grabbed her bag and headed out to work.
When she arrived, she parked her car at the front entrance and took a deep breath. She gathered her things and stepped out of the car. She turned, locked the car, and started to the entrance.
Jessica looked up at the buidling she will now be working at. The building had twelve floors to it. It was like a shorter version of a New York skyscraper as the sides were all tinted windows. It looked sleek, sexy, and twenty-first century.
Jessica walked into the building, greeted the lady working the front desk and stepped into the elevator. She hit the sixth floor button and waited to arrive there. As she rode the elevator, she remember her floor manager, David, telling her not to go to the basement floor nor the twelfth the other day. When she had asked why, David made a comment she couldn't quite catch nor understand. He seemed a little... suspicious about it. She had asked a coworker about it when David had walked off, and the man seemed a little suspicious about, as well. Jessica sighed and tried to forget about it.
The elevator stopped and the doors opened up. Jessica stepped out of the elevator and went to her desk. She noticed that a lot of the women working here put a lot of effort into their looks. They wore flirty, if not slutty, outfits. They all seemed to be model quality, too: nice figures, perfect teeth, wonderful hair, flirty makeup, and "friendly" attitudes - particularly towards men. Jessica seemed to stand out a little bit.
Jessica made it to her office. She was an accountant, so she had her own office rather than a cubical. Though, the office was rather small, it was decently private and it blocked a lot of the noise from the cubical area. She sat her things down and looked at the clock on the wall. "Only 7:30?" she mumbled to herself. She still had thirty minutes before she had to clock in. She wondered what she should do next.
[Author's note: I'm so happy to see that so many people are enjoying this story! I'm doing my best to add as much as possible each day. If you have any suggestions for the story please, add them in the comments below and I'll see if I can work them into the story!]
Want to support CHYOA?
Disable your Ad Blocker! Thanks :)
Jessica has started a new job working for a high profile company. She chose this particular company because it has a very high job satisfaction rate. However, the truth behind that will slowly reveal its self. Can Jessica prevent herself from becoming indoctrinated, or will she sumbit?
POV

3rd Person, Both
Category
Language

English
Mode

Moderated
Updated on Jun 22, 2017 by Ash117
Created on Jun 16, 2017 by Ash117
35 Chapters
21 Chapters Deep