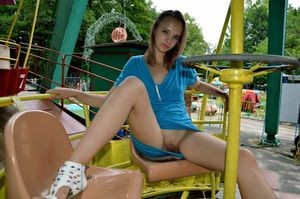 Everyday Screw: The Amusement Park
See if you can get a ride on a ride
Chapter 1 by
Bran_Hopewell
The park wasn't so bad. It's the off-season, though, and attendance isn't exactly stellar today. None of the ride seem to have long lines, and none of the workers are very enthusiastic. It seems to be affecting the guests as well. the park is built for children, and they seem to be having a ball, but everyone over the age of 18 just seems to be going through the motions.
It's not too big of a park. There is a roller coaster, a ferris wheel, a couple of side shows, some carnival games, a couple of eating places, and a few other attractions and rides. the place is just big enough you can almost get lost in it, especially if you know the hiding places. Most of the workers are ready to go home for the season, and most of them are a group that traveled for work experience in a different country. The main season has bolstered their language skills, but most of them still have just the right amount of accent the sound incredibly sexy.
Do you work at the park, or are you a guest? Tell us a little about yourself...
Amusement parks are only fun for the people that don't work there. maybe you can help a board employee have a better day...or give another guest something to remember.
POV

1st Person, Both
Category
Language

English
Mode

Moderated
Updated on Sep 18, 2018 by Bran_Hopewell
Created on Sep 10, 2018 by Bran_Hopewell
2 Chapters
2 Chapters Deep