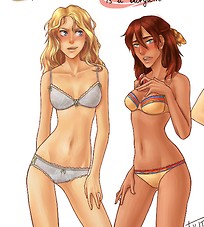 Annabeth's invisibility
Annabeth have a little "fun" with her cap
Chapter 1 by Random404
Annabeth Chase, daughter of Athena, two time savior of Olympus, slayer of Arachne and countless other monster. Some of her victories are due her magic Yankees cap she had that have the ability to make her invisible. After the war with Gaia, Athena gave her a new one together with her stuff she dropped in Tartarus. What naughtly deed could she do with her magic cap?
The daughter of Athena always kept her Yankees cap close to her in case she needs to get invisible, but what if she decided to get a little "naughty" ? Rape and violence are highly not recommended. If you are the owner of this photo and wanted it remove please notify me and I'll remove it.
POV

3rd Person, Female
Category
Language

English
Mode

Public
Updated on May 19, 2018 by Random404
Created on May 16, 2018 by Random404
With every decision at the end of a chapter your score changes. Here are your current variables.
12 Chapters
7 Chapters Deep