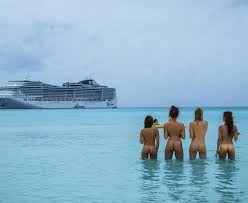 A Holiday For Singles
Hookup at Sea
Chapter 1 by switch76
Put a man's name as First Name
Put a woman's name for Miss 76 as Last Name
It is the middle of summer and the start of the holiday you booked for yourself. You are standing in line on the dock waiting to board the ship that will be your home for the next 2 weeks. Your luggage has been sent ahead to your cabin.
While you are waiting, you read the promotional brochure that was given to you by one of the crew.
"A Holiday for Singles" it says in big letters at the top. "14 fun filled days for single guys and single girls to get to know each other." That is what attracted you to this holiday. A chance to meet some sexy girls.
You flick through the brochure and read about some of the facilities on board. There is a swimming pool, sauna, hot tub, lots of bars, clubs and restaurants, a casino and various small shops as well as many entertainment areas and other places to visit. It's almost like a small city on the water.
There is also a schedule of events including many "getting to know you" games and events to help the guests mingle.
You eventually get to the front of the queue and one of the staff checks your ticket. She has long blonde hair and a great figure. She looks very sexy in her uniform which consists of a short blue skirt and white blouse. "Hi John, I'm Amanda. I will be one of the cabin crew that will be on hand to assist you over the next 2 weeks. On the ship there will be 100 single guys and 100 single girls."
She hands you a blue badge with the number 76 on it. "We request that you wear this badge at all times if possible. From the information you have given us, we have calculated your best match amongst the 100 girls. She will be wearing a pink 76 badge. Her name is Doe. Be on the lookout for her.
You are not obliged to do anything. You are free to mix with her, or any other girl...and if you don't like any of them, the staff are also all single". Amanda gives you a little wink and a smile. You're not sure if it is meant as a come on or just her being friendly to the passengers. "Enjoy your holiday."
You walk off and pin the badge to your T-shirt and decide what to do first.
Do you explore the ship, visit your cabin, look for Miss 76, wait for Amanda, go to one of the scheduled events or do something else?
Want to support CHYOA?
Disable your Ad Blocker! Thanks :)
2 weeks with lots of available single girls on a fun filled holiday.
POV

2nd Person, Male
Category
Language

English
Mode

Moderated
Created on Sep 1, 2004 by switch76
You can customize this story. Simply enter the following details about the main characters.
41 Chapters
20 Chapters Deep