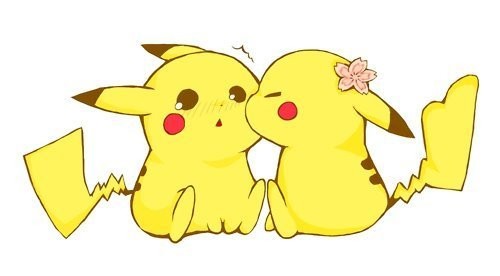 [Pokémon: Let's 'DO IT'!]
Three very good friends, one male, two female, and thier ambiguously gendered Japanese associate, end up being suckered into a trip to a world where Pokémon are real... (Adders Encouraged!)
Chapter 1 by

Nemo of Utopia
Kevin Damian St.Cloud let out a sigh as he watched the waves roll in and out on the rocky pebble beach near where the "Union City Mobile Colony" had been encamped. He could see, out in the surf, real live Starayu glowing with the gathering dusk. Further out Horsea gripped corals with thier flexible tails, whilst Goldeen swam further out to sea in preparation for the high tide dragging them back in an hour or so.
"Penny for 'em." 'Lucky' Lucy Cordelia Vanderpool said, throwing her arms around his neck, and spreading her ever-so-shapely legs to either side of his own...
"I never thought I'd actually see this. I've dreamed a beach full of Starayu a thousand times and here it is, before my waking eyes: but I'd give everything I own to wake up in my dorm right now." Kevin stated.
"Well thanks for that bit of, 'Patently-obvious-to-the-casual-observer' wisdom there, Derrick-Downer, but that's not going to happen, so just enjoy the 'dream-come-true'." Ashley Quinn Spennellie said where she lay petting her first Pokémon.
"It is not 'patently-obvious-to-the-casual-observer' Spennellie-tan, I for one would have come on this trip regardless, even knowing what we do now about where we are and our odds of returning home." Their fourth Companion, (who's real name and gender most of the others STILL didn't know,) said with a note of pride. "You loved the games and shows, yes, but for me they were life itself, and now, I can LIVE IT in truth."
Kevin thought back. Two short weeks ago none of them could have imagined being here. That night, the night when the cogs of fate enmeshed them all in this darkly beautiful destiny, which found them staring out to sea in the light of the setting sun. Stareing off the coast: of Kanto...
What Was The Start Of All This: When Did The Cogs Of Fate Begin To Turn?
Three college students, one male, two female, all obsessed with Pokémon: win tickets for an 'all-expenses-paid' trip to Japan to be among the first guests to enter a new theme park built around the Pokémon franchise. They actually have four tickets but decide to share the last one with a Japanese friend, more an associate, they know online who is an even bigger Pokémon fanatic than they are. They have never met this fourth person, in fact they only know them by their online handle "Pikachu4UandMii", but they like him/her, (they don't even know thier friend's gender...) and know that if he/she had won the tickets he/she would have brought them along. Things go fine, (ok, with a few minor hiccups,) until they get on the "Ultimate Pokémon World Exchange" ride. This five thousand passenger bullet train is supposed to take them to Niantic headquarters for an exclusive Mew giveaway, but instead, as it accelerates into a tunnel there is a swirl of rainbow light and flashing stars! The next thing everyone aboard knows they are flying out of another tunnel: and straight into the ocean! ... An ocean filled with Horsea, Goldeen, and Starayu... Everyone on the train has been tricked! This "all-expenses-paid" trip is one-way: to a world where Pokémon are REAL! Now some of the people would have come quite willingly, except for the catch: in this Pokémon world, humans went extinct over a million years ago. Now the over a million guests coming to the park the first day, (selected from the entire world population for their encyclopedic knowledge of Pokémon, ) are being Shanghaid as colonists to settle this alien planet! Will the fours' friendship survive the stress of this new planet, or perhaps become something 'more'? Can they realize thier once futile dreams of becoming ace trainers? Can they survive in this alien world? Can they find a way to bring themselves and the other castaways home again? (Do they even want to?) And what do the twenty pokeballs that appeared in their luggage have to do with all this? Read on to find out! (Or, add your own chapters to create the answers for yourself!)
POV

3rd Person, Both
Category
Language

English
Mode

Moderated
Updated on Nov 15, 2017 by Nemo of Utopia
Created on Nov 14, 2017 by Nemo of Utopia
With every decision at the end of a chapter your score changes. Here are your current variables.
9 Chapters
8 Chapters Deep