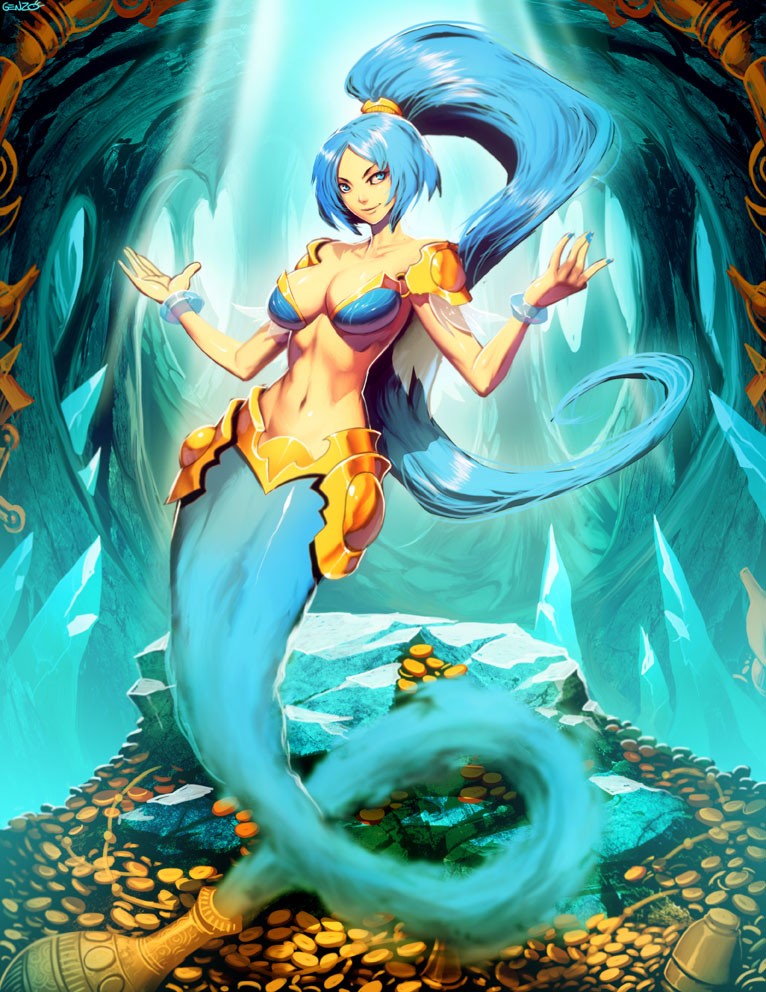 Ovyah Discovered
The Wonderful Tale of the Erotic Lamp
Chapter 1 by

Rubicon
Once, long long ago, deep within the depths of the omniverse... there was a world of magic and mystery, of ancient power and savage will, where powerful warriors fought and wily sorcerers plied their trade.
This world had many kingdoms, some held by force of arms or force of will, others by ancient traditions or bureaucracies. One of these kingdoms was known for having a Potentate who had many children, mostly girls, all known for their wit, their grace, their beauty, and -- it was whispered -- their appetites.
One of these princesses was married in an arranged marriage for political advantage. Her name was Ovyah, and she was said to be among the cleverest, the most passionate, and the strongest willed of the Potentate's children. Sadly, her marriage was dull and loveless, with little of the passion she craved. So, being unwilling to endure such existence... Ovyah strayed, finding the indulgence she so wanted.
Her husband discovered her infidelities, and both to punish her and ensure her loyalty enacted a terrible rite, destroying the princess as she existed and remaking her into a pure Djinn of Lust. Now she would serve a single master all his days, obeying his every desire and being capable of any wish that involved lust or desire, then consigning her to a lamp after her master's death until the next time she was found and released.
What her former husband and new master didn't realize was how liberating and wonderful Ovyah would find her new life... and how much she would push him to challenge and enjoy her, ironically giving her the things she had most wanted before even as he indulged himself with her.
After his death, the lamp fell into legend... appearing in almost any universe, in any time, in any world... in any story. And each time, the lamp was found... polished, as a djinn lamp should be... and the spirit of the lamp was released and incarnated into Ovyah, remade to match the personality and appearance her new master most would desire... capable of almost any act so long as it was related to sexuality... and utterly loyal to her master...
Of course, Ovyah can't demand anything of her master... but is amazingly good at goading even a reluctant master into using her abilities... and of course, when a master releases her from the wonderful lamp of legend... there is no putting her back until the master dies...
(Originally based upon "The Wonder Full Tale of the Erotic Lamp" by OmegaJay. Picture credit to Genzoman.)
If you like this story and want to support my writing
please consider joining my Patreon! Thanks!
(Rubicon/Kimberly Dale)
Who Finds the Lamp and Recreates Ovyah to their specifications?
Untold thousands of years ago, across untold universes and timelines, there was a princess who was married for political advantage. Her marriage was cold and loveless, and her husband dark and evil. He believed he was cursing her by transforming her into a pure spirit and Djinn of Lust, only to liberate her senses and ultimately make her immortal and world spanning. Her name was Ovyah, and her spirit was bound into an old, battered lamp. Now, her lamp can be found all over the omniverse, in different periods of history. When it is found by a new person and Ovyah is released, she is incarnated into the perfect image of sexuality for her new master. She has only one master until that master dies, even if someone else gets her lamp. Her power is almost unlimited... save that the wishes she grants must be sexual in nature. Her personality, appearance, drives... all these change based upon who incarnates her anew by releasing her from the Lamp. For some, she is a blessing upon themselves and their worlds. For others, she can be a terrible plague unleashed upon a world by a selfish, ambitious or insane master. As for Ovyah herself? She takes delight in her existence regardless of conditions, and is only driven by the desire to please her master... ...sometimes by any means necessary.
POV

3rd Person, Both
Category
Language

English
Mode

Moderated
Tags

Djinn, Arrowverse, Harem, Mary Jane Watson, Gwen Stacy, Silk, Hydra, Cisco Ramon, Vibe, Killer Frost, Caitlin Snow, Iris West-Allen, The Flash, Barry Allen, Lisa Snart, Golden Glider, Harrison Wells, Tony Stark, Cindy Moon, Iron Man, Iron Monger, Obadiah Stane, Clytemnestra Erwin, Morley Erwin, James Rhodes, Spider-Man, J. Jonah Jameson, Don Blake, Janet Van Dyne, The Avengers, Lois Lane, Superman, Clark Kent, Cat Grant, Orgasm Denial, Lex Luthor, Billy Batson, Mary Batson, Captain Marvel (DC), Captain Marvel, Mary Marvel, Betrayal, Symbolic Defloration, Innocence, Innocence Lost, Tala, Forced Orgasm, BDSM, Non-Consent, Gargoyles, Demona, Brooklyn, Lori Lemaris, Fantasy, Face punching, Spider-Gwen, Unprotected Sex, Time Travel, One More Day, Mephisto, Harry Wells, Chikan, Subway Sex, Public Sex, Cheating, Invisible Woman, Susan Storm, Susan Richards, Invisible Sex, Shapeshifting, Mercy Graves, Rapid Aging, Aladdin, Robbie Robertson, Daily Bugle, Forced Impregnation, Disney, Who Framed Roger Rabbit?, Supergirl, Stargirl, Booster Gold, Wonder Woman, Aquaman, Batman, Mister Terrific, Martian Manhunter, Black Canary, Green Arrow, The Arrowverse, Cannonball, Iron-Man, Peter Parker, Zatanna, Lactation, Suckling, Duplication, Doppleganger, Stan Lee Cameo
Updated on Feb 15, 2019 by Rubicon
Created on Dec 31, 2018 by Rubicon
177 Favorites
35 Bookmarks
79 Chapters
13 Chapters Deep