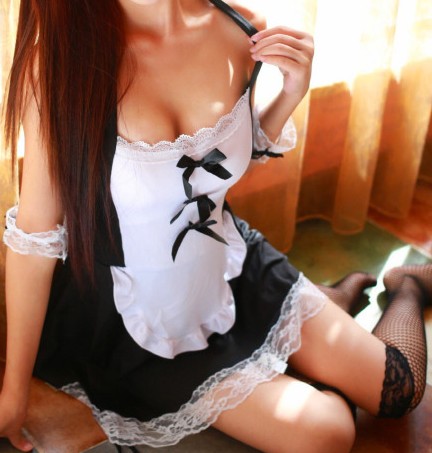 Happy Maid
Something very strange is going on in households with a housemaid
Chapter 1 by

Javalar
"Why don't we order a Happy Maid?"
The question, that started everything. And you yourself asked it, one evening.
Why not, indeed?
Your new neighbours across the street had one, your friends around the block had one… even the old couple in that tiny house next to the store had one. It's fashionable right now to have one. It seems like the solution to so many problems: No more housework, no more cooking. A progressive society. Women are supposed to have careers. You sure had planned to have one. You havn't even turned 30 yet, and your beloved husband Dave is a few years older. You both want careers and no one wants to bother with housework. Why not ordering a "Happy Maid"?
So you ordered one.
The "Happy Maid" is a mixture of a brand name and a concept: The housemaid who does everything for you, always similing. There's only one company who trains those women and matches them with families. The "Happy Maid" brand is huge, the company is stock listed and one of the big success stories of the recent years. They send out catalogs, and you can choose your own Happy Maid.
[Please note: I strongly recommend to play this story by clicking on "Start Game" in the right menu ("Score"). This adventure relies quite heavily on different variables which will open and close paths for you, depending on earlier decisions. The adventure also makes use of loops and linked chapters in the story, so that you can follow one main path, no matter what your initial decisions were (but due to the use of variables, the main story can still change significantly). If you just browse and click through the story, you might miss some of the fun. Please be also aware that the story is still in development stage, and with the current setup of variables and linked chapters there might obviously be bugs. If you think you found a bug, I am very happy to hear about it. You can find out more about the variables and "rules" in the explanation chapter below.

Update, June 2016: All plots and paths should have reached "Friday evening" by now. My goal is always to work on all options more or less parallel. Every option is always leading somewhere, there are no 'dead ends' at this moment, unless obviously the newest chapters. You don't always have to choose the "first option" to get through the story. If anything seems strange, please leave a comment. Basically, I love comments. All kinds of comments. Comment, discuss, like! Participate! Feedback is, for an author, better than sex. Well... almost.]

Update, August 2018: A lot of plots have reached "Monday morning" and I am at this moment in the process of closing the gaps. There are a few side plots which are dead ends. Most plot lines will converge again on Monday morning, except for the "Escape" plot, which, a bit like "The Matrix", will allow you to break out of the system and forge your own destiny. This is, of course, also the best option to "win" the story. But beware, because the path is full of dangers as well. The story has by now a few Bad Ends.
In a maybe not so distant future, the "Happy Maid" brand is everywhere. But do couples really know what lies in store for them when they order a housemaid? You play a young wife who soon finds out that the innocent, harmless "Happy Maid" is actually subverting your life and slowly starts to control your mind. You must prevent the evil scheme in your own house to save your marriage, your husband... and your freedom.
POV

2nd Person, Female
Category
Language

English
Mode

Moderated
Tags

#maid, #housemaid, #asian, #french, #russian, #submissive, #housework, #apron, #maid costume, #bonnet, #lace, #stockings, #table, #coitus interruptus, Maid, Housemaid, Mind Control, Uniforms, Submission, sex dreams, #master, #manor, Office, Boss, Bimbofication, embarrassement, Trophy wife, Bimbo, Daydreams, Party, Blowjob, Blow job, Nymphomaniac, Big boobs, #tit fuck, #bimbo, #porn, #wife, #husband, Deep throat, #cum, #boobs, #boob job, #dirty talk, Orgy, Group sex, On display
Updated on Feb 13, 2019 by Javalar
Created on Apr 24, 2016 by Javalar
With every decision at the end of a chapter your score changes. Here are your current variables.
4,152 Likes
3,102,482 Views
1,138 Favorites
328 Bookmarks
356 Chapters
44 Chapters Deep