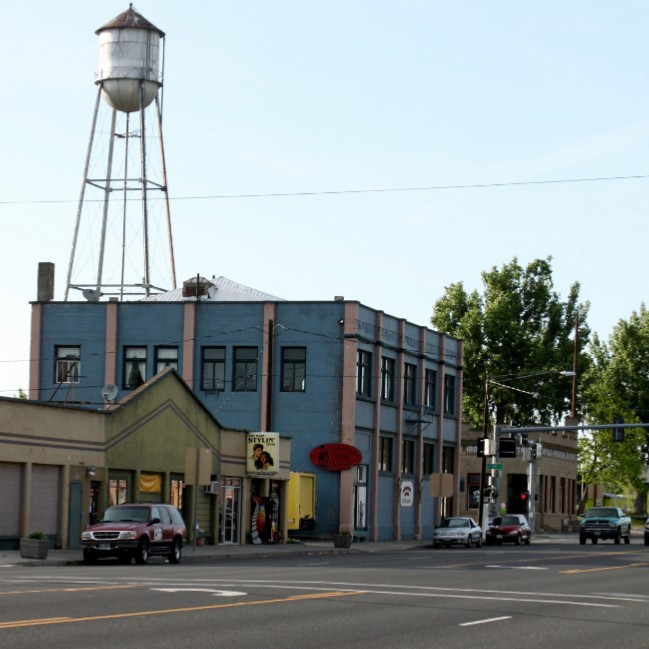 Getting Out of Town
Just three small town girls livin' in a lonely world
Chapter 1 by

unsophisticated
Welcome! I hope you enjoy this trashy little romp. If there are aspects of the story you would like to be able to customize, please do feel free to ask in the comments, and I will try to oblige by adding some new variables. Finally, if you enjoyed the story, please take a moment to click the "like" button on the chapter(s) you particularly enjoyed... or just on this one if you'd rather!
---
Europa is the name of a continent, a moon of Jupiter, a mythological figure... and a town in Oklahoma. And Europa, Oklahoma is about as far from the grandeur of the first three as anyone can get. It wasn't always this way. During the late 19th and the first half of the 20th century, the town boomed. Its central location made it a railroad hub, and industry and commerce thrived. That all dried up long ago. What is left now is just the shell, an echo of a time that is gone and not coming back.
The glory days of Europa were over before Nicole, Serena, and Amy Hill were even born. Still, things have only gotten worse in the meantime. Tragedy struck the family shortly after Nicole's graduation from Europa High School, when their parents, Jack and Diane Hill died in a tragic accident. Nicole had to put her plans for college on hold, willingly sacrificing her ticket out of here in order to take care of her sisters, especially the young Amy. The alternative for them would have been foster care, tearing their family apart. That would have been intolerable. Not that she could have afforded it without her parents' help, anyway. She often looked back on her decision, but she always couldn't help but come to the conclusion that she made the right one.
That had all happened eight long years ago. Nicole was now 26, Serena was 24, and Amy was 18. None of them had particularly high prospects, to be honest, but they all at least had good looks in their favor.
Nicole was tall and slim, with fair lightly tanned skin, a slim and athletic build, short dark brown hair, and supple lips frequently adorned with a sassy smile that was almost (but not quite!) a smirk. Her short hair, her toned physique, and general assertive personality caused many to regard her as a sort of tomboy, but she never really embraced the label herself. Serena was shorter, curvier, with larger breasts than her sister; she had fairer skin but darker hair, and liked to emphasize the contrast with bright red lipstick. She was the intellectual of the lot, and, as if to show it, the only one that wore glasses. More quiet and reserved than Nicole, Serena tended to contemplate her actions more carefully, for better or worse. Amy was the youngest, the only one with blonde hair, and had been something of a surprise addition to the family given how much younger she was than her sisters. Physically, it could be said that Amy had the best qualities of both of her elder sisters, possessing both Nicole's lean athleticism and Serena's impressive bust. On the other hand, having been raised in the wake of tragedy, she had something of an unstable personality and was often not pleasant to be around. In some ways, none of them were: Nicole had a sharp wit that sometimes got nasty, while Serena had a certain detached coldness to her. Could anyone blame them?
Nicole and Serena worked as waitresses at Carol's Cafe, a popular breakfast spot. Popular, of course, being entirely relative: in this case, it was usually truckers, the occasional tourists who got sidetracked on their way to somewhere far more interesting, old couples who were content to just make sure they die before the town does, men whose greatest days were when they played high school football, and the women raising the next generation of the same. Not to mention a substantial portion (in other words, two or three guys) of the local police department. Much like the rest of the town, Carol's had a certain quality to it that defied time. It obviously hadn't been redecorated since the late 1970's, and the whole thing looked like a relic from that era, right down to the bland brown dresses worn by the all-female wait staff. Carol herself was long-dead like everything else in town. Her son, Marvin (himself nearly sixty by now) was now the boss and the cook, cranking out the same greasy fare day in and day out.
Nicole and Serena's employment was relatively stable, and the pay was tolerable, but to keep the family above water, they'd often had to think outside the box. Being attractive young women, they'd of course tried to leverage their good looks to make a bit of extra money. Every little bit helped, but it wasn't as though they could afford state-of-the-art gear, and the cheapskates jerking off to standard definition cam girls on various sleazy websites were not exactly paying anywhere close to top dollar. Once she was of age, Amy joined in this racket (Carol's Cafe wasn't hiring, and Amy didn't really want to join her sisters in that dead end anyway) and seemed to do a bit better at it; it may or may not be true that gentlemen prefer blondes, but socially inept foreign businessmen definitely do.
Still, none of this was sustainable, and even if it was, none of it was desirable. They had to do something different. They had to get out of here.
All they really want is to get out of here, and all they have is each other. If the Coen Brothers wrote trashy lesbian incest erotica, this is about how it would go.
POV

3rd Person, Female
Category
Language

English
Mode

Moderated
Updated on Mar 17, 2019 by unsophisticated
Created on Mar 3, 2019 by unsophisticated
You can customize this story. Simply enter the following details about the main characters.
31 Chapters
18 Chapters Deep