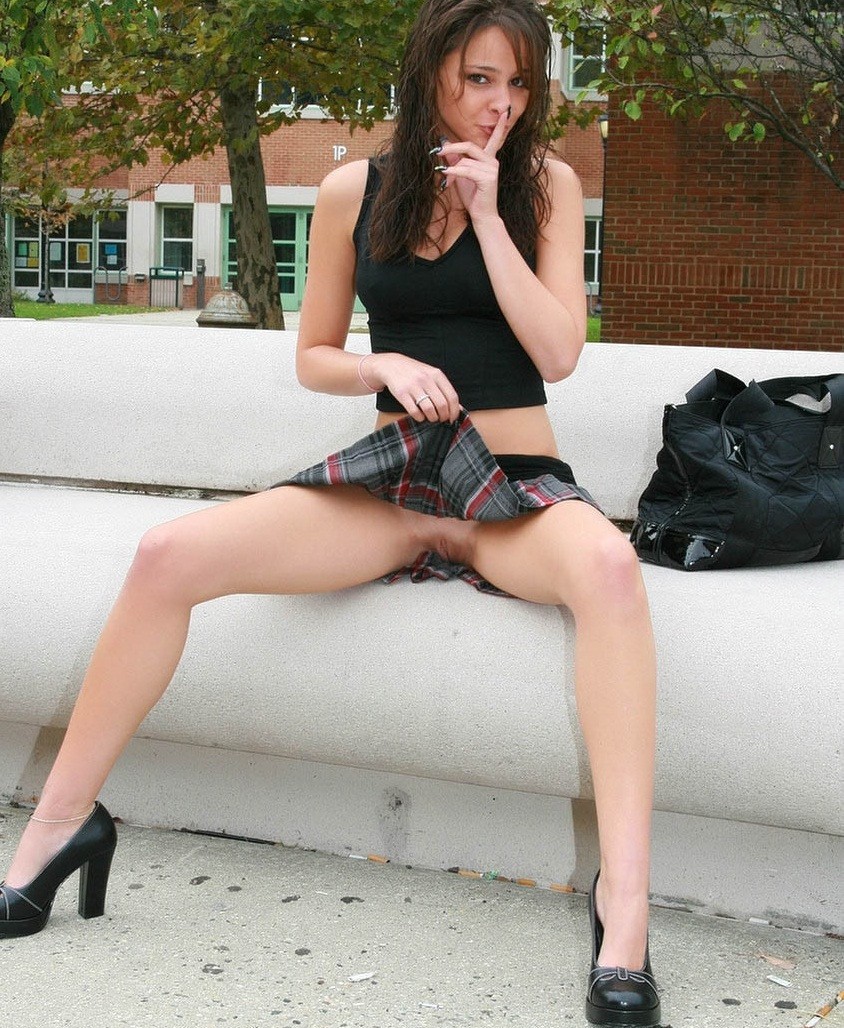 Extracurricular Adventures
Tale of a shy college girl turned daring autoeroticist
Chapter 1 by

vgadict
Looking back at my early days at college, most people that met me then probably wouldn't even recognize me now. At the time, my hair was a basic shoulder-length cut without any coloring or styling, and I wore some dorky-looking prescription glasses. My wardrobe consisted of ankle-length skirts, some loose-fitting pants, and several long-sleeve blouses. My attire was considerably more conservative than that of other girls in the rural Midwest because my family was rather strict about enforcing dress codes for my sisters and I. Some of my high school classmates even used to joke that we dressed more conservative than the Amish. I was so used to being fully covered that I actually felt a bit awkward wearing t-shirts and shorts for my PE classes, or even wearing a modest one-piece swimming suit for those rare trips to the pool in summer.
I don't blame my family for being so conservative, and I realize now that they were just doing what they believed was best for us. Those outfits and unflattering haircuts made my sisters and I look plain and uninteresting, which proved to be an effective defense against hormone-raging teenage boys. I rarely ever had boys notice me during school, and it was rare for them to even talk to me. Unfortunately, I was so unattractive and ignored that I didn't even get asked to go to a single dance. I remember sitting home alone in my room on the night of my senior prom, crying to myself and thinking that I must be ugly and horrible. I was lonely, hurt and angry, but who needed boys anyway?
[Author feedback request: If you like a certain chapter, please click the "I like this" thumbs up symbol at the bottom. That feedback greatly helps me understand which chapters and branches of the story people like the most. Based on that, I'll try to create more chapters for popular branches and hopefully include more content that readers like. Also, feel free to add comments in the lower right for individual chapters to help explain what you liked or didn't. That type of feedback helps me even more. Alternately, consider posting your comments in the Story Feedback forum:
https://forum.chyoa.com/threads/extracurricular-adventures.730/
I hope you enjoy the story, and I look forward to reading your comments.]
A girl recalls the events that changed her life after high school. Raised in the rural Midwest as a timid, conservative young woman, her first weeks at college flipped her world upside down. While facing the possibility of losing her scholarship or disgracing her family, her forays into exhibitionism and masturbation ultimately lead to a complete psychosexual metamorphosis.
POV

1st Person, Female
Category
Language

English
Mode

Private
Tags

Boobs, Flashing, Naked, Pantyless, Exhibitionism, Selfie, Underboob, Skimpy Attire, Porn, Wet, See-through, Nipples, On Camera, Darkness, Nature Call, Masturbation, Orgasm, Appliance, Peeing, Skirt, Bottle, Anus, Pussy, Public, Anal Insertion, Voyeurism, Thong, Climax, Braless, Revealing Attire, Nude, Anal, Cum, Furniture, Recorded, Micro Skirt, Tube Top, Dildo, Phallic Food, Short Skirt, Exposure, Skinny-dipping, Pool, Vibrator, Oral sex, Lesbian, Ass, Clit, Tongue, Lick, Suck, Dare, Game, Lube, Condom, Erotic art, Blackmail, Mirror, Sweat, Girl Fight, Cheerleader Outfit, 2 Guys 1 Girl, Blowjob, Swallow, Handjob, Big Cock, Phallic Object, Breasts, Snatch, Schoolgirl Outfit, Vagina, Fetish, French Maid Outfit, Enema, Panties, Pubic Hair, Streaking, Shower, Superhero, Fight, Foreplay, Massage, Exposed, Stolen Clothing, Bottomless, Sex, Food like cum, Brazillian, Wax, Nipple, Ice, Trimming, No Underwear, Fluids, Class, Fingering, Wet T-Shirt, Contest, Wardrobe Malfunction, Large Breasts, Bare Pussy, Swallowing, Dream, Masturbate, Hairstyle, Tickling, Fans, Video
Updated on Jun 18, 2018 by vgadict
Created on Nov 28, 2016 by vgadict
306 Favorites
75 Bookmarks
136 Chapters
75 Chapters Deep